10 random facts you probably never knew about Matt.
1. I'm an adrenaline junkie. I love to speed, in a safe sorta way. Oh, oxymoron. : )
2. I'm a good listener. I give reasonably good advice, but I always seem to have trouble following them when it's applicable to me.
3. I'm sensitive. Pros: I understand people and emphatize with them very well. Cons: I'm sensitive.
4. To a certain extent, I'm very systematic. When something is not running the way it is or merely out of position, I'd go out of the way to correct it.
5. I squint my eyes sometimes when I'm out in the sun, even if it's not glaring.
6. I've a soft spot for animals, and my heart breaks when I see homeless people or just people who are less fortunate than me. And I know God's calling in my life is to use me to help people and to reach out to them.
7. I tend to be judgmental sometimes without being verbal about it. As much as I place my major importance on character, I'm still very 'looks' orientated when I judge people. My weakness, and God is still working in me. Be patient with me.
8. I secretly dislike the fact that I'm a "jack of all trades, but master of none."
9. I'm very very simple. I can eat almost anything, and mamak is just about the best place for a good meal at a decent price. I'm not fussy about a lot of things, but that doesn't mean I'm not particular when something is important.
10. I think way too much sometimes. Again, pros and cons.
Bet you didn't know that.
I have other random fun facts, but some of which I think are just bad habits and not worth mentioning for fear of causing a lost of appetite. Haha!
Anyway, there's a long list but that's it for now.
The rest, you're gonna have to get to know me. : )
Classes are beginning to pick up.
Taxation is probably the most memory based paper among the 3 papers.
Audit is getting really really technical. Substantive Analytical Procedures kills. But I love the class. It really makes you utilize your brain to the best of its ability. I love audit, like seriously.
Professional Accountant is getting really really ethical now that the earlier chapters of the nitty-gritty of a company have been taught. Getting tougher too.
I'm beginning to make a few friends here and there.
I guess I'm slowly settling into college.
All that's left is to get my spiritual life back in order.
Honestly though, there are those times when my mind tends to wander off and stuff.
For all the uncertainty in the future, these are the times that my faith is being tested to hold on to God's hand and trust Him to lead me through this.
One thing after another has been turned upside down here and there, and there really is no stopping it.
It's been ongoing, but I can only be thankful that I've had God all this while.
I thank God for good friends though.
Been spending time with some people, and I can't remember the last time that I had so much fun and genuinely felt so happy.
Things haven't exactly been smooth, but God has been sustaining me.
Sure I've felt the pinch, the pain occasionally...but really, it is the grace of God that has kept me through.
The scars are still there, the memories are vivid reminders...but God is faithful.
As much as this sounds mean, but I'm literally distancing myself from the people who take me forgranted and who treat me as a secondary option for whatever reasons.
For the people that have always been there, I've given myself over to them more and here's another fun fact to end the post...
[I will do almost ANYTHING for the people who mean the world to me]
Here's the best part...you'll never know it was you, but you're appreciated. : )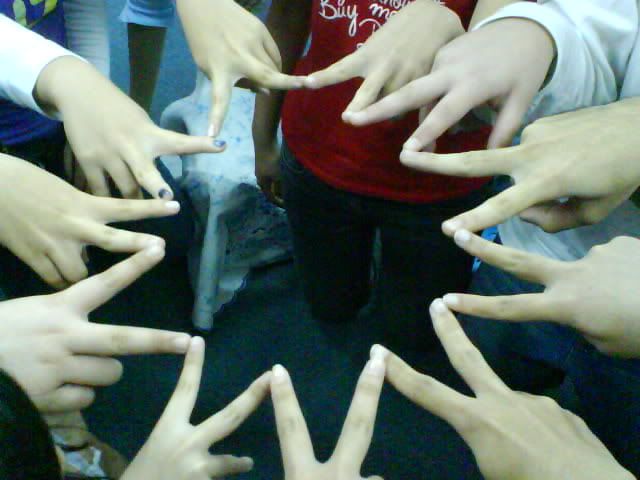 Picture of the day. Me likey. : )