Listening to: Saved the Day - Planetshakers
Blogging for the sake of blogging. I spent the whole day slacking again. Three cheers for me. Spent the day watching animes and movies. So, for the sake of it, I shall do a double movie review on the movies that I've caught today, on DVD of course.
The Spiderwick Chronicles.
When the movie first came up on the big screens, I was tempted to watch. However, I did not get the chance to watch. Since Brandon had the DVD, so why not just borrow? = )
Anyway, truth be said the movie is indeed classified as a "kids movie" in every sense. It was not as bad as I perceived it to be, nor was it as good as the trailer once suggested. Honestly, nowadays trailers are so deceiving. They're definitely more than meets the eye. Only the best scenes are shown (duh!) but then again, this is marketing.
Verdict: 6/10 Just an average movie. Bring your kids, they'll probably love it.
Next up...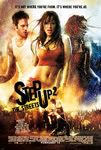 Step Up 2: The Streets.
My apologies once again for the very low quality poster, but I assure you the movie is way better. Yes, I'm outdated but better late than never. There were pretty good reviews when the movie came out, and I checked it out as it was recommended by Brandon.
Verdict: 8/10 I thoroughly enjoyed the movie. It actually influenced me to pick up hip hop as well as break dance. The moves were definitely full of pace and eye-catchy. I definitely recommend it.
The weather is ruthless. Having massive heatwaves here in Malaysia. I wish to be somewhere far from here. Half a day more to waste...
Signing off,
Matt