Listening to: How You Love Me Now - Hey Monday.
Happy Independence Day!
What a nice day to sleep in...
Whoops...didn't mean to sound so patriotic here.
Firstly, to whoever actually reads this blog, I am sorry for not updating for so long.
It's been one packed weekend.
Missions trip, then conferences.
So yeah, it's been pretty busy.
I know I said I'd update that day, but I'll make up for it today.
If time permits me, a double update with a whole lot of pictures.
So brace yourself...this post is teeming with pictures.
Read at your own risk (Or you could just click the 'x' button on the top right corner if it takes too long to load due to the mass of pictures on this post).
You have been
WARNED!
Proceed with caution!
First update...
Friday, 21st August 2009
Had to head off to Sunway to drop off my transcript for ACCA purposes.
Picked Nic up, dropped by Sunway, and had lunch at Peppercorn Cafe.
Their set lunches were rather reasonable I suppose.
Mushroom soup with garlic bread. Yumz...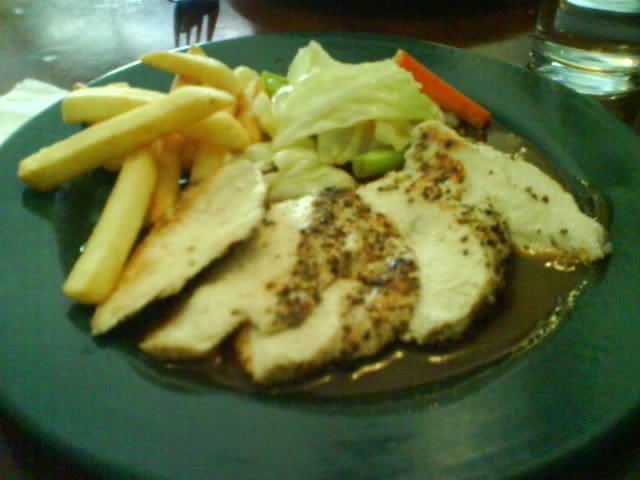 Blackpepper chicken, apparently with different kinds of spices. So so for me...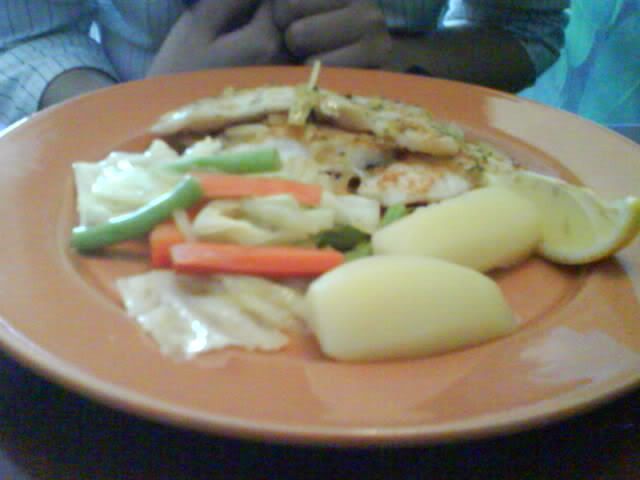 Nic's fish with butter lemon sauce? Meh, I can't remember. But this was better than mine.
Dropped her back to college after that.
And met a few ex-DJians there too.
Small world indeed. = )
Saturday, 22nd August 2009
It was the high school class monitor's birthday, and he had his bash at a Hakka Restaurant nearby Aman Suria.
It was good, as it was sort of a class reunion with the whole lot of us on the same table.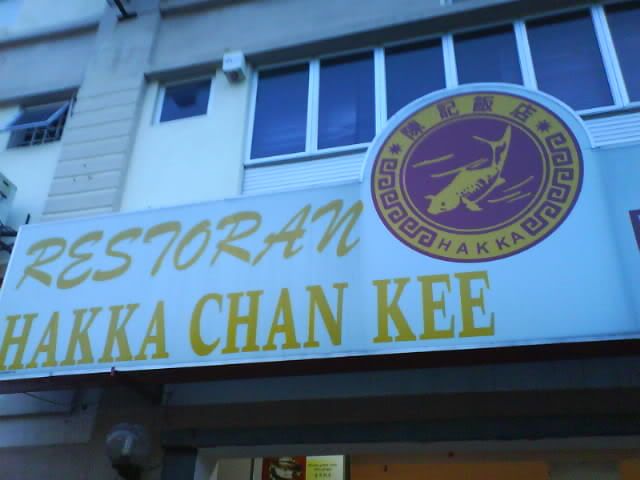 The venue.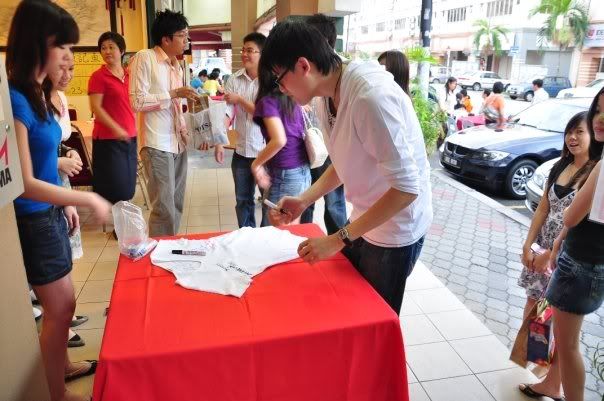 Our "registration". Picture credits to Peng Cheng.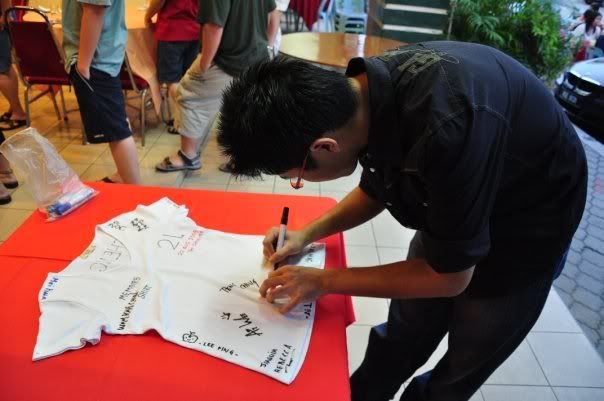 "Registering" myself. = ) Credits to Peng Cheng.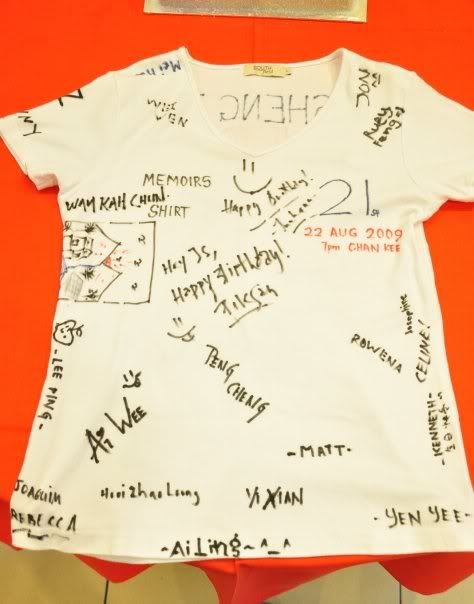 Memoirs of his 21st. = )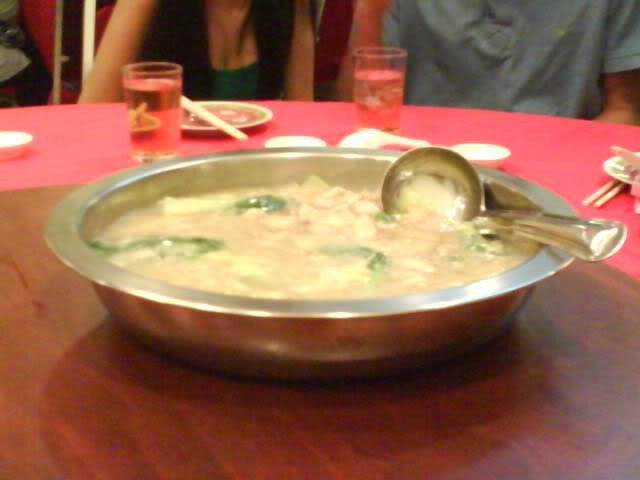 Kinda forgot what this was, but it's the appetizer. Go figure.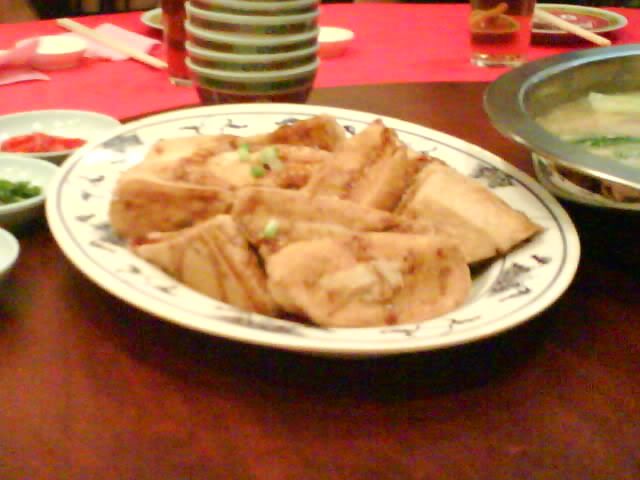 Fried tofu.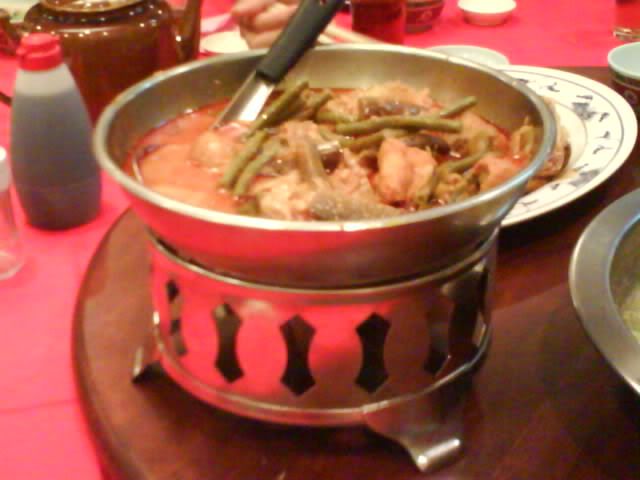 Curry fish, with much veggie included. This was yummy.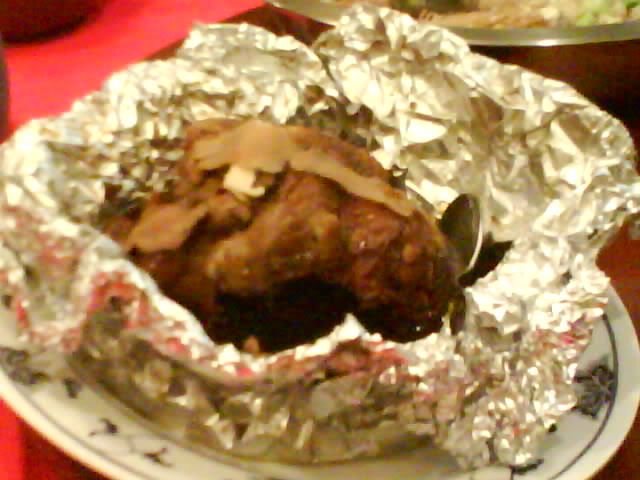 Not quite sure what you call this, but there's a term for it. Chicken by the way.
Mmm, prawns.
Steamed fish.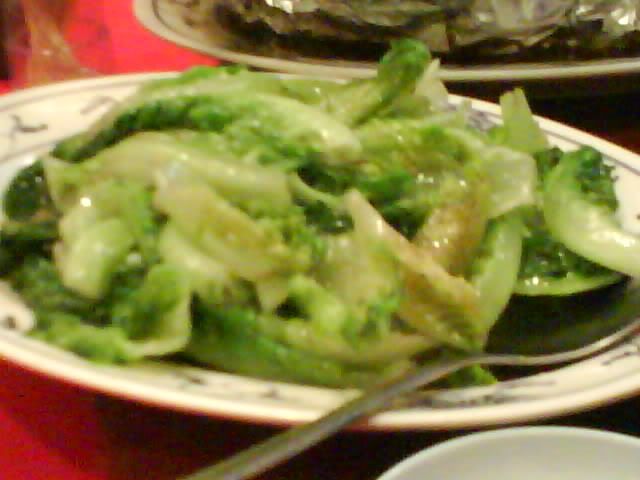 Greeeeeeeeeens.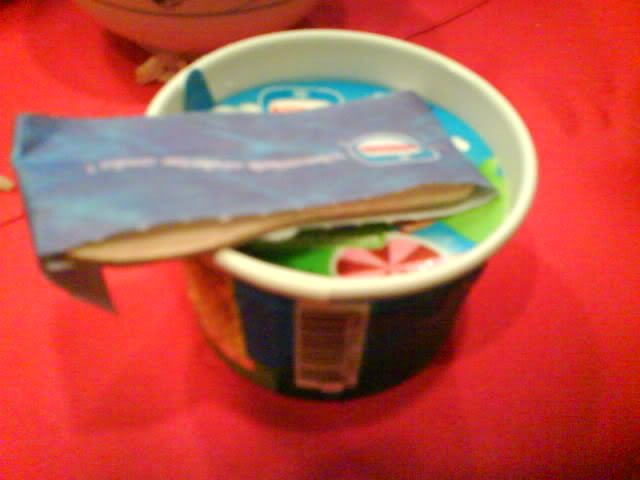 Dessert.
Mat Cool anyone? Ugh, sounds familiar.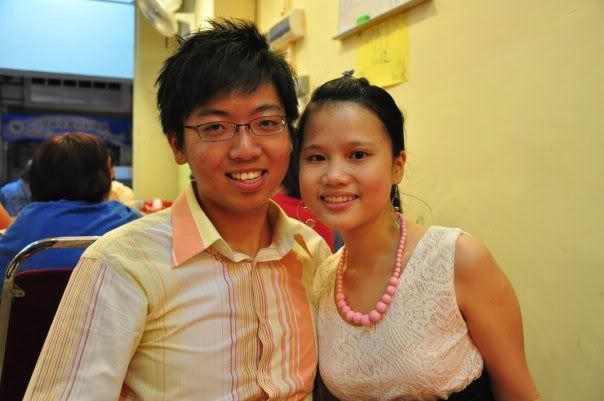 Birthday boy and his beau. Credits to PC.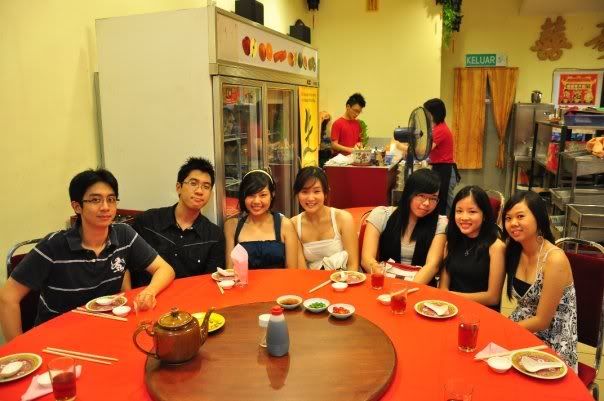 Credits to Peng Cheng.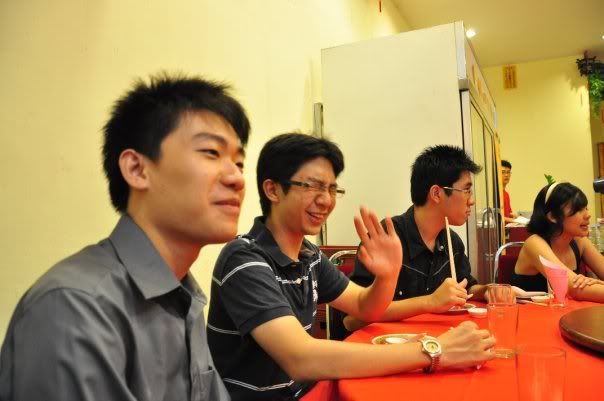 From L-R: Jack, Dennis, Matt, and Suk Wein. Haha, Dennis' classic face. Credits to PC.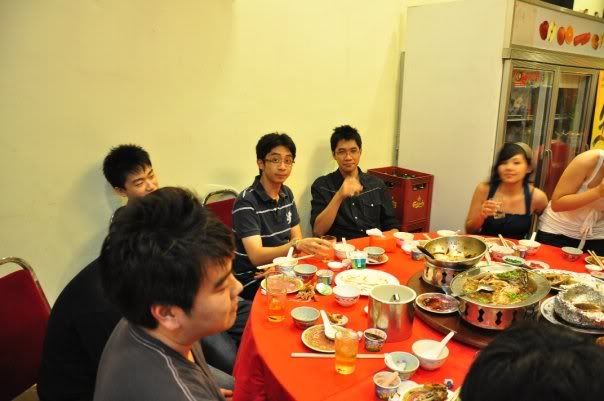 Enjoying the company.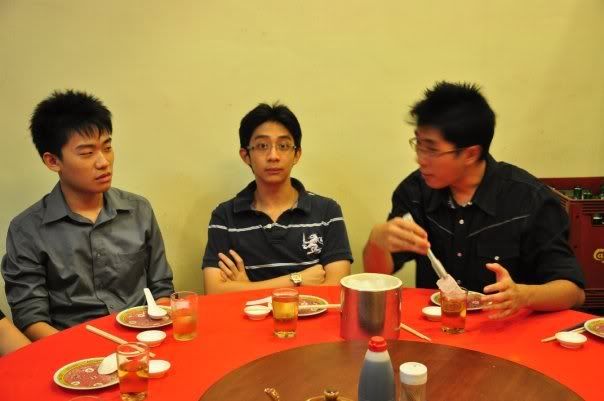 Credits to PC. Meh, now my turn to be caught candid.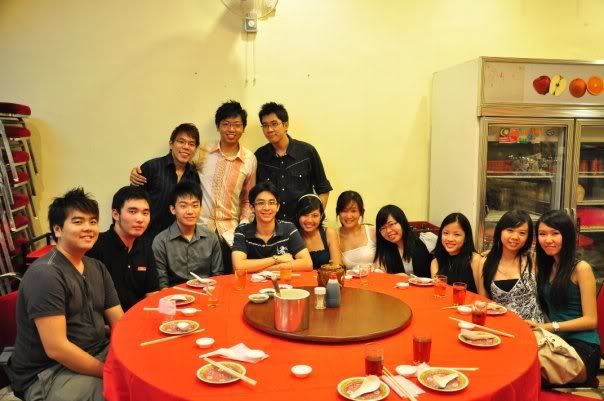 DJians unite. Credits to PC.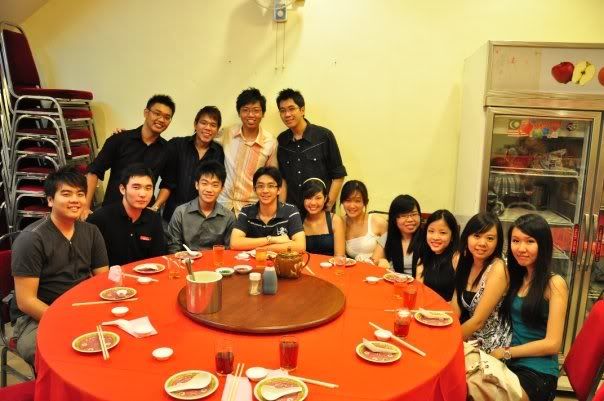 Smile for the camera. = )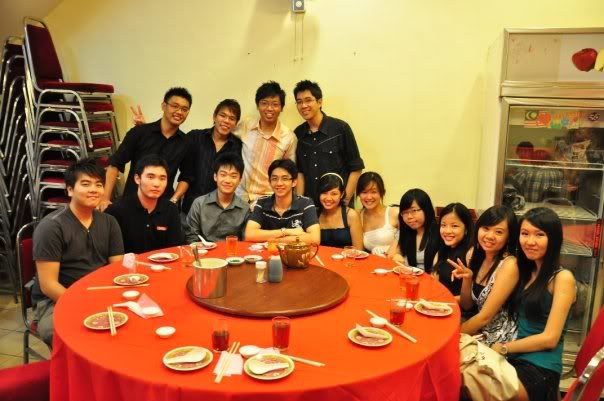 These people are why high school was bearable.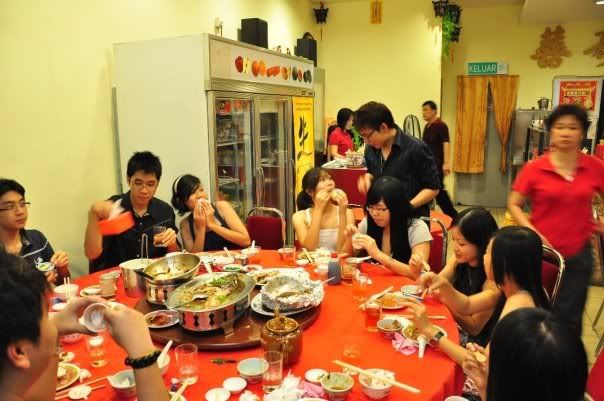 Post dinner chitter-chatter. Credits to PC.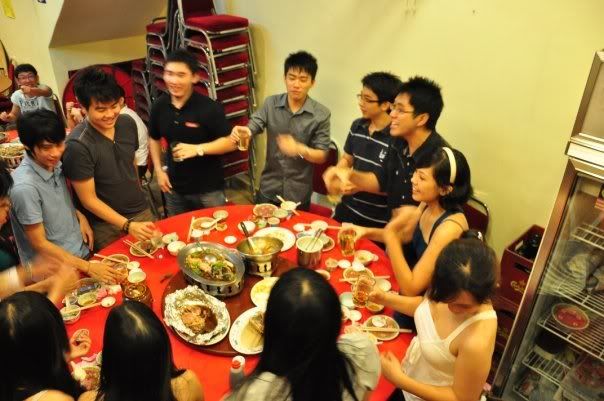 '
Yam Seng
' session. I'm serious, no kidding. Which was why this felt like a wedding dinner. Credits to PC.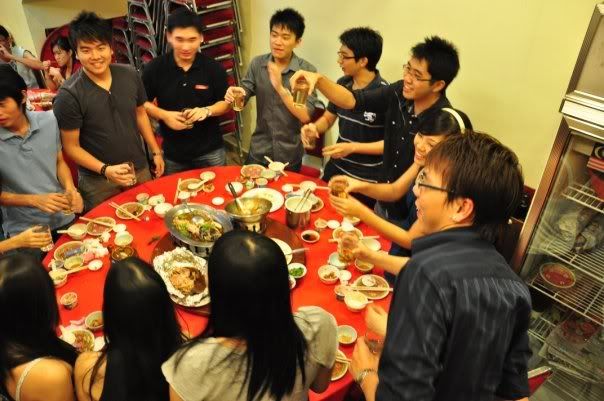 On the count of 3...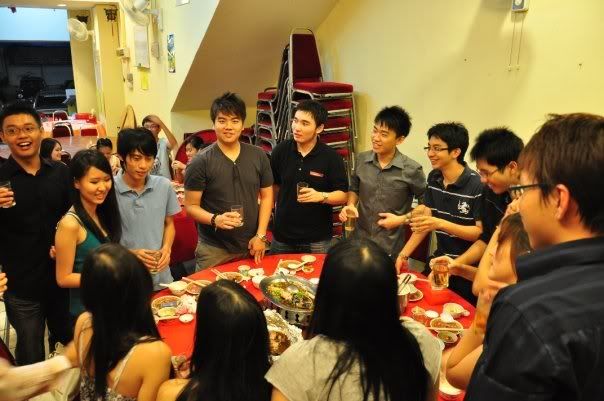 Too bad there wasn't any wine to compliment the moment.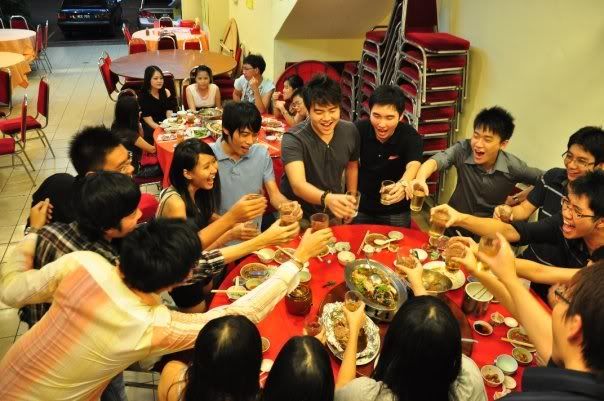 Here we go.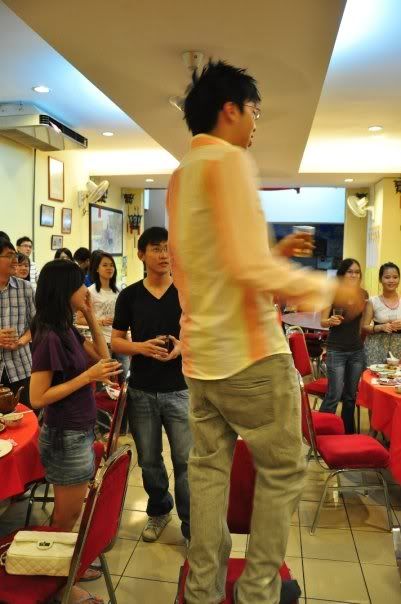 The birthday boy and the final mass '
yam seng
' from all of the tables. Credits to PC.
Here's to you buddy. Credits to PC.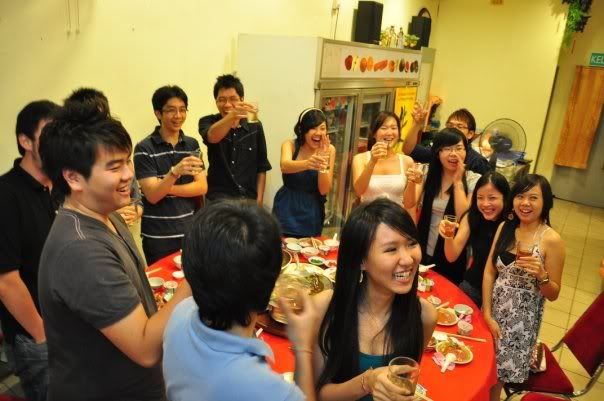 Tonnes of laughter and fun. Credits to PC.
Cakey...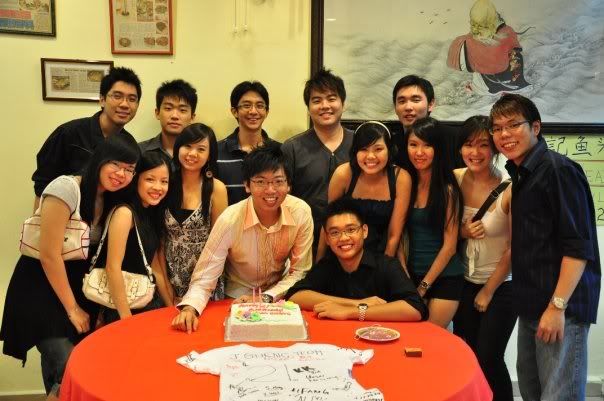 Us DJians (mostly 5 Kempas-ians) with the birthday boy and his cake.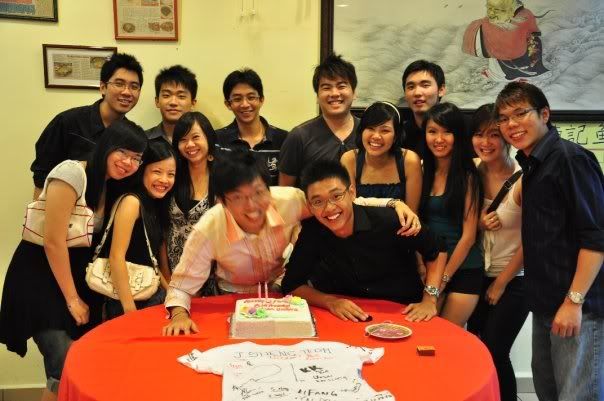 Shot #2.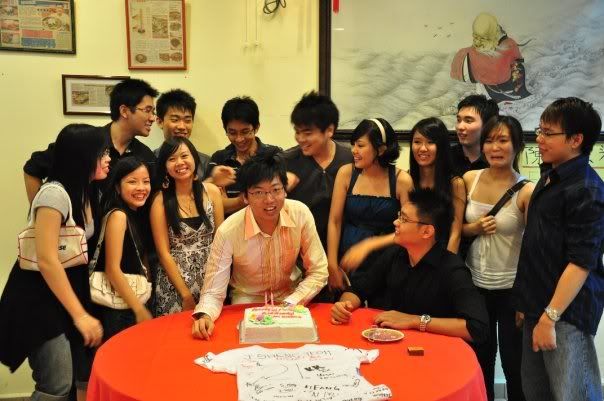 Scheming a masterplan.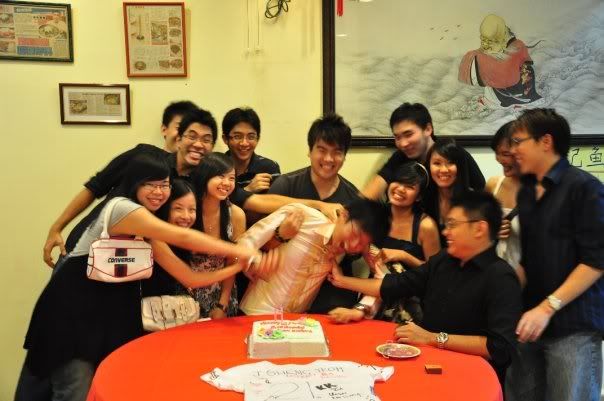 Executing it.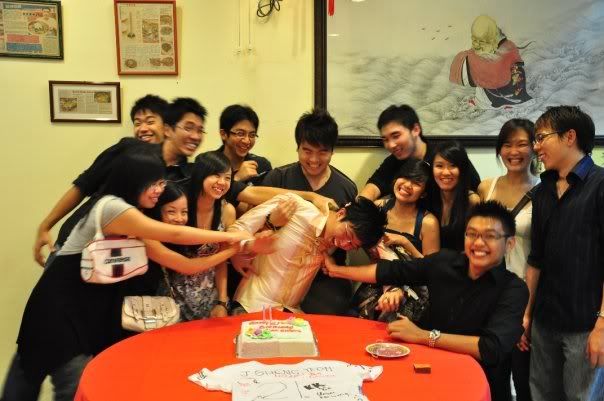 Still trying. Kekeke...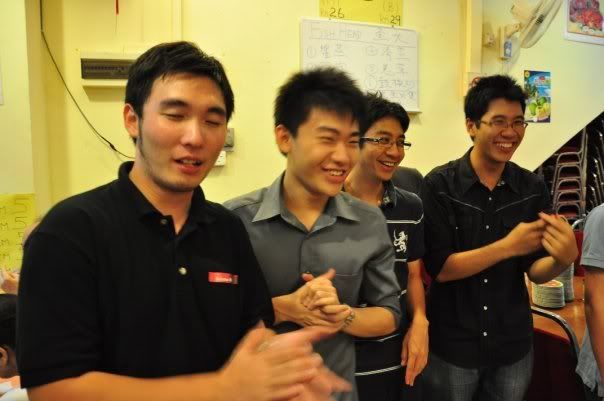 Sugar rush. Credits to PC.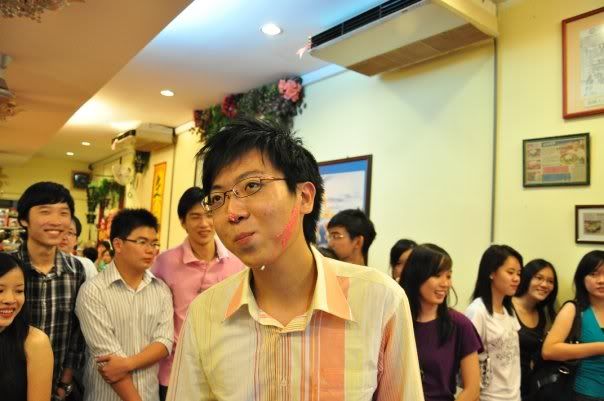 Creammm! There were too many of us waiting for the cake to waste it on his face though. Hahaha! Credits to PC!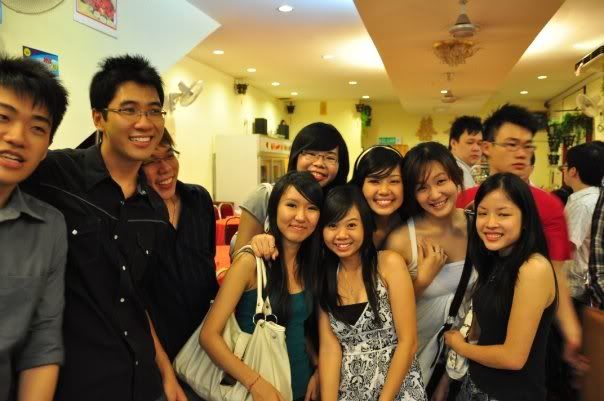 Caught in the crossfire of the camera.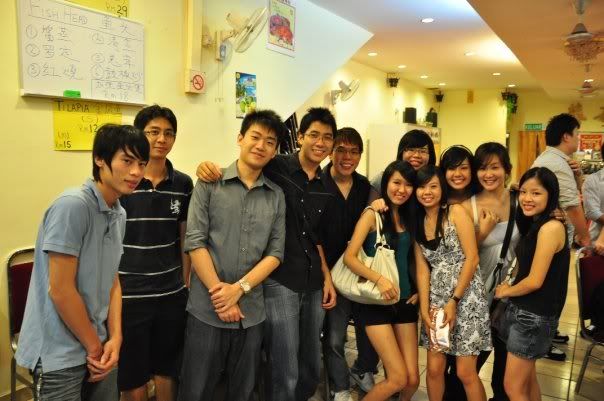 A group picture, proper.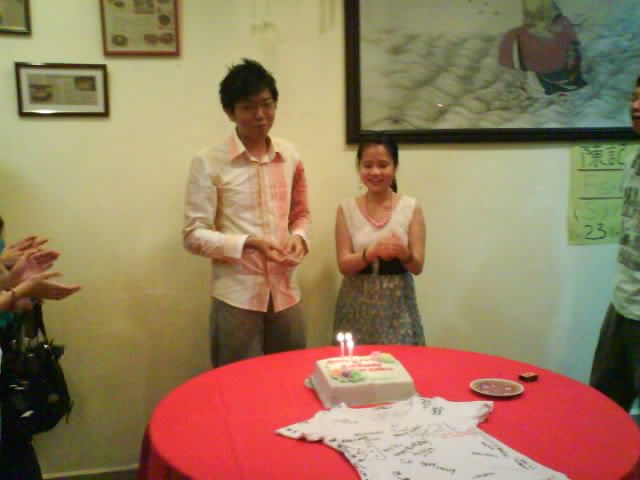 Singing the birthday song.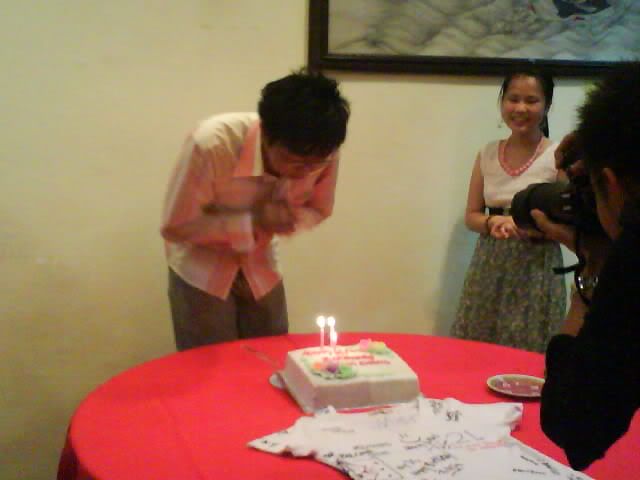 Making a wish.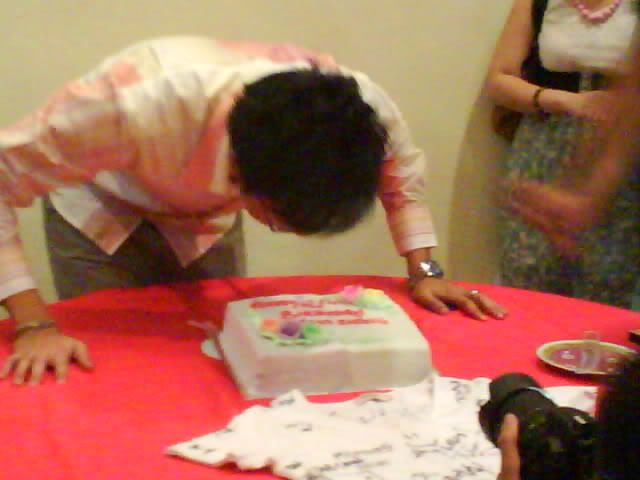 Wonder if it's tradition to get the candle out of the cake with your mouth. Is it?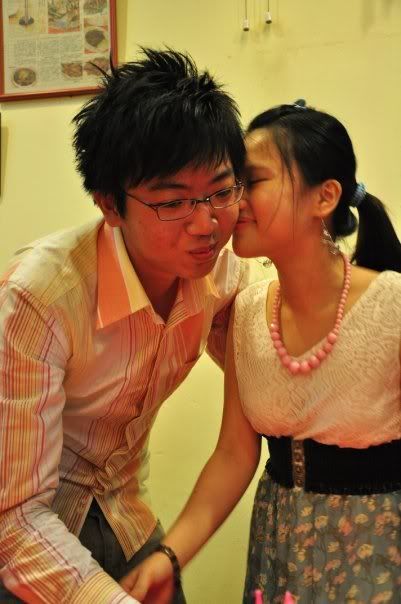 The birthday boy's beau 'suffered' as an indirect cause of 'punishing' the birthday boy. Credits to PC.
Whoops. xD
They had to hold this position for all the cameras. Hahaha! Sweet much.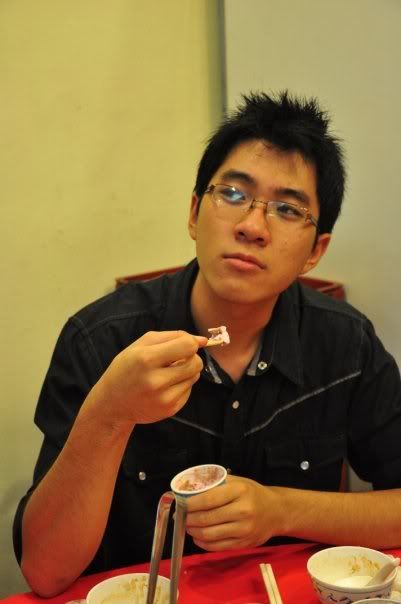 The reflection does kinda spoil the picture. Credits to PC.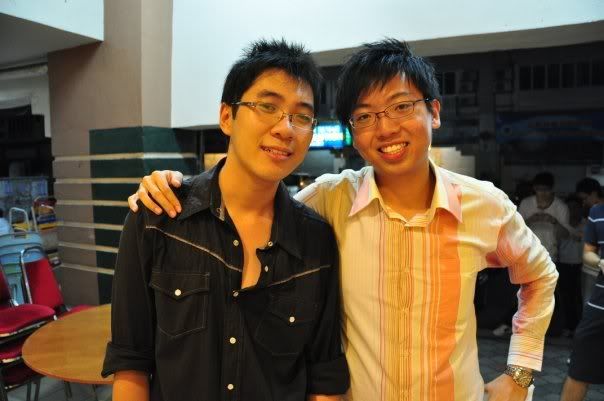 Matt and the birthday boy. Credits to PC.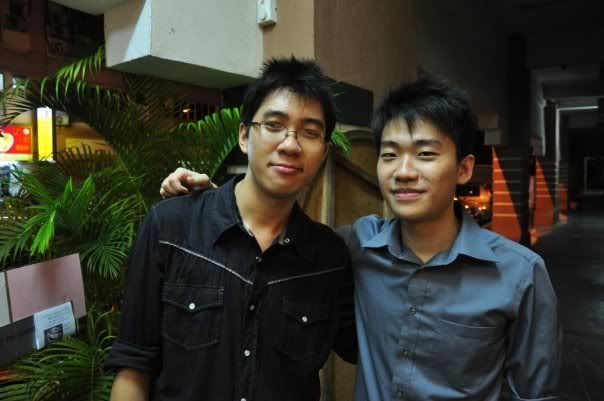 Jack and yours truly. Credits to PC.
It's Mr Dennis. xD
Kenneth How and yours truly.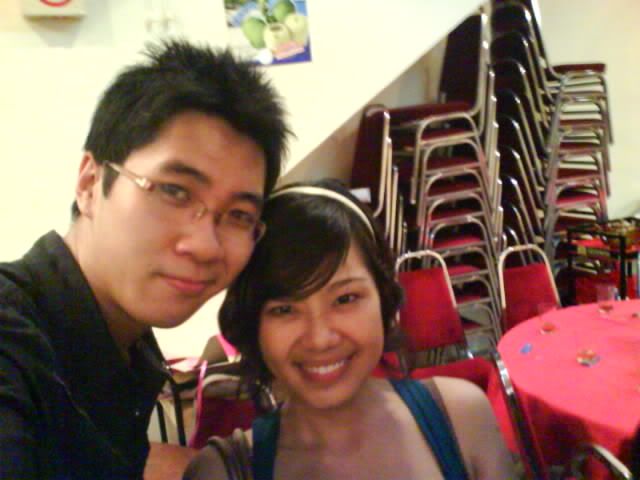 Suk Wein and Matt.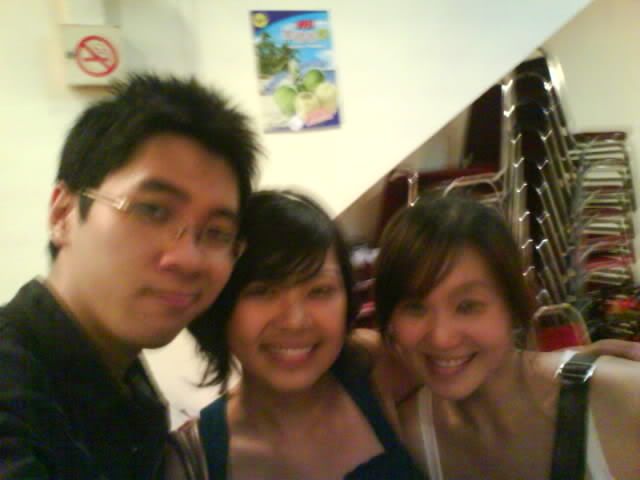 With Ping jie jie this time. = )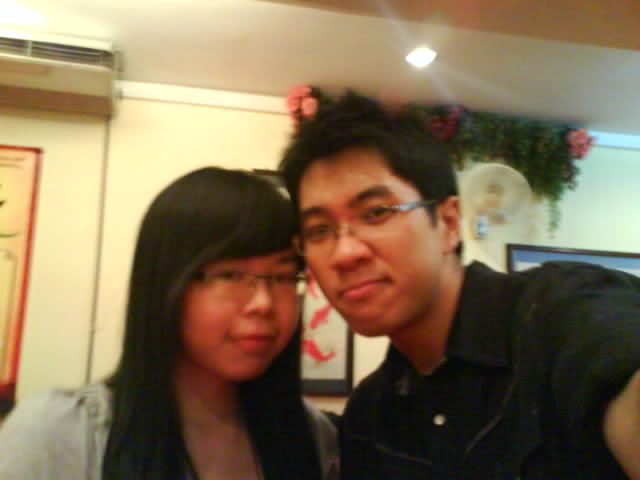 With Ling mei mei.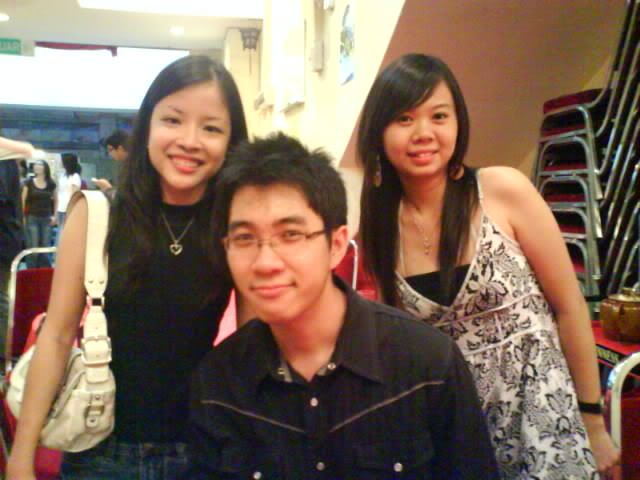 With Joaquim and Ai Wee.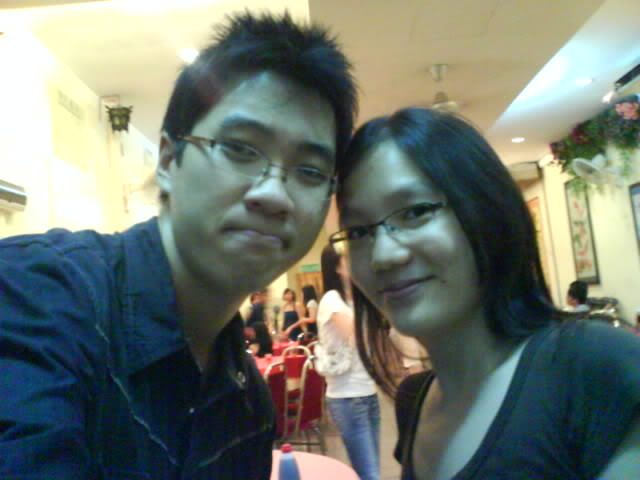 With Celine mei mei. Yes, I have a lot here and there. Sue me. =X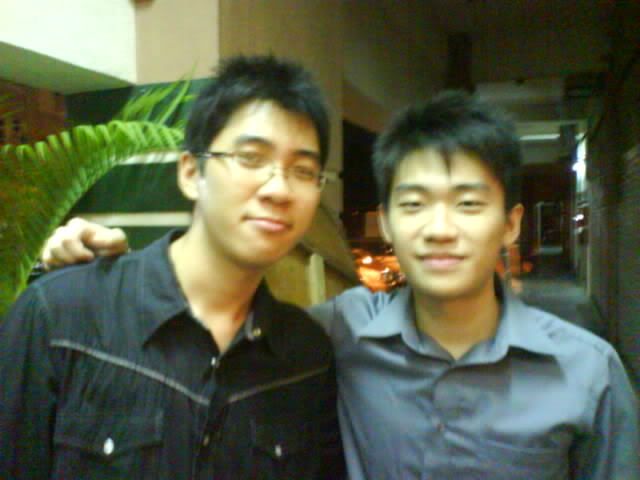 With Jack again.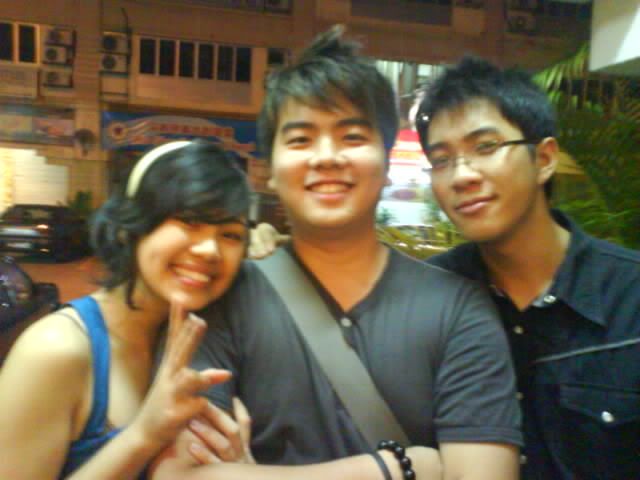 Suk Wein, See Leong, and Matt.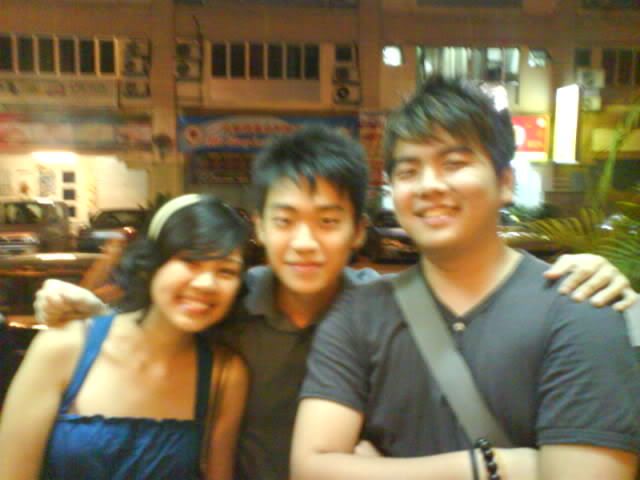 Suk Wein, Jack, and See Leong.
The night ended pretty well.
Some of them headed off to Decanter for round 2.
Me?
Well, I headed back to sleep cause there was church the following day.
Haha!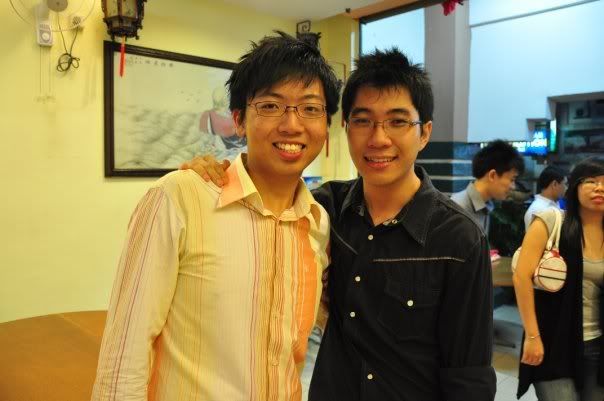 Once again, Happy 21st buddy. Hope you had a blast! Credits to PC!
More pictures on the facebook links below.
Link #1: Click
here
.
Link #2: Click
here
.
Sunday, 23rd August 2009
Celebrated Barney's 21st in church.
Just a small celebration, but meaningful nonetheless.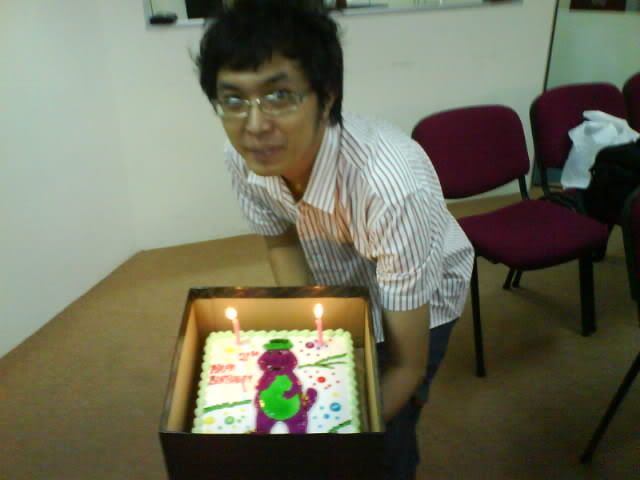 Here he is, with his cake.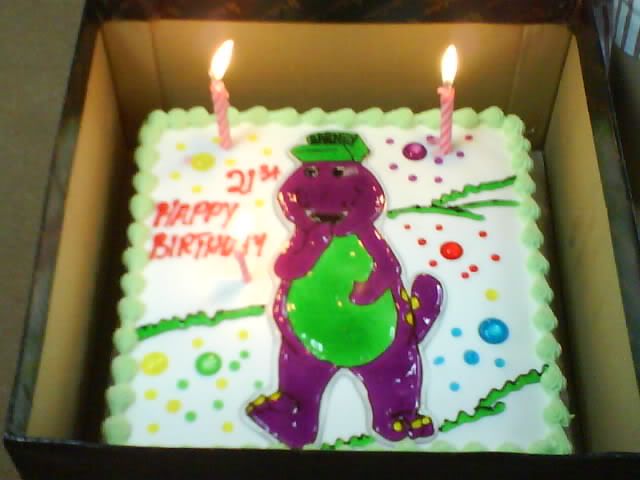 Cute much yes? = )
For more pictures, click
here
.
Whew.
If you've successfully read until here, congratulations.
You're either too bored, or you're an awesome friend.
Take your pick; if I were you, I'd go for the latter. = )
Well, that's all for now.
Next post would be soon, hopefully.
What with me starting my 3 months internship tomorrow.
Hence, hiatus is probably what's gonna happen again, at least till the weekends.
But then again, my weekends are crazily packed. xD
This is me, signing off.