Lengthy post ahead!
Something I've learned from Rev Issac Joe on Sunday.
It was a clear reminder and a mind-provoking thought that I'd like to throw to everyone of you.
Sleep, Eat, Work...
Sleep again, eat again, then head back to work...
And the cycle repeats itself.
Now here's the question.
Ever wondered what your real purpose in life is?
To sleep, eat, and work everyday and repeat the cycle is to
EXIST
.
But to live everyday with a God-given purpose in life is to
LIVE
.
To live everyday with an assurance of an eternal destination is to
HOPE
.
And to live with an eternal destiny is to
FULFILL
.
When it hit me that I've just seen 21 years of my life pass me by, it gave me a sense of urgency.
To be driven more than ever to reach out and tell people about the most wonderful person in life, my dear Jesus.
No, I'm not ashamed of the gospel.
Why?
...that if you confess with your mouth the Lord Jesus and believe in your heart that God has raised Him from the dead, you will be saved. [Romans 10:9]
For whoever calls on the name of the Lord shall be saved. [Romans 10:13]
And when time is of the essence, life is so short, and the world crumbles in hopelessness and despair...
I'd want people to look up and know that there is hope in Him...to share this hope and joy that I've found in Him.
Haha, I'm getting carried away.
But urgency continues to burn within me, and life's mission is ever so compelling.
I refuse to just sit around and watch, not when I carry the best news there ever will be and the hope of glory and salvation in me.
Call me whatever you want to, but God's love compels me to reach out.
God loves you, even if nobody else does!
Best thing to get through everyday knowing someone does. = )
Okay.
Now we'll move on to updates.
So, here we go...
1. Peng Cheng's 21st Birthday Celebration @ 1st August 2009
His actual birthday was on the 4th, but he had his party on a Saturday at his place.
The food spread before us was...yums.
Met up with many high school classmates and schoolmates.
Made some new friends and had a blast.
Our table.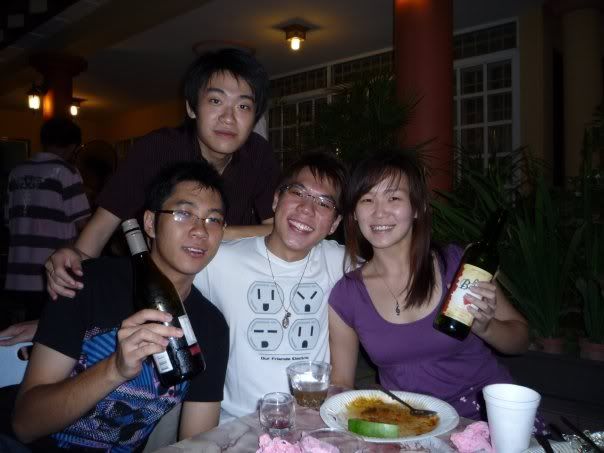 Red wine frenzy. Meh, I look tipsy. Again explains why I look bad in photos. Clockwise from top: Jack, Lee Ping,Kenneth, and yours truly.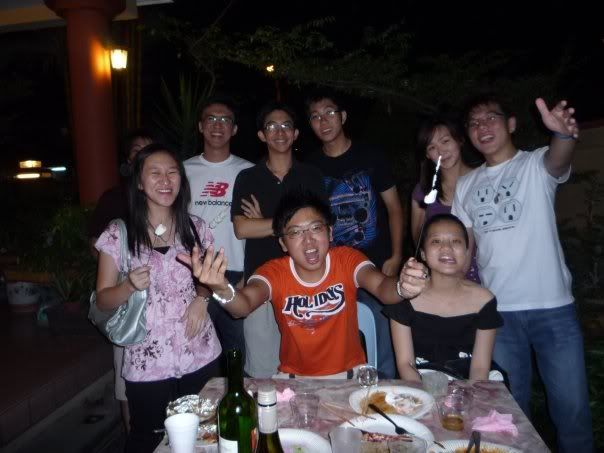 DJ-ians are wacky people, but that's why we're cool like that. = )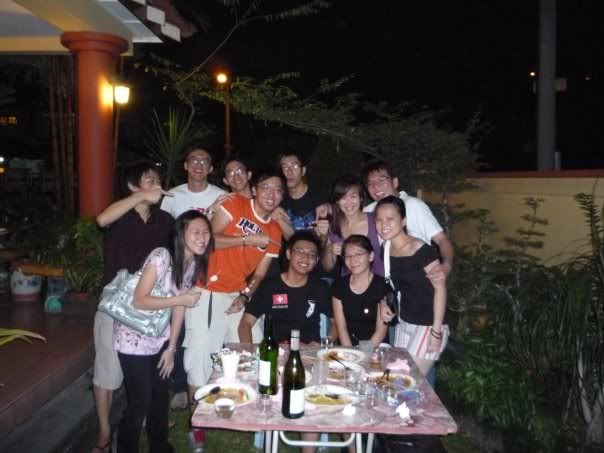 With the birthday boy.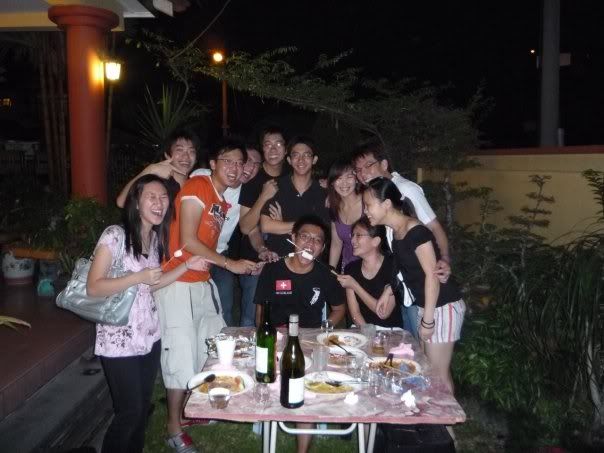 Feeding the birthday boy BBQ-ed marshmallows.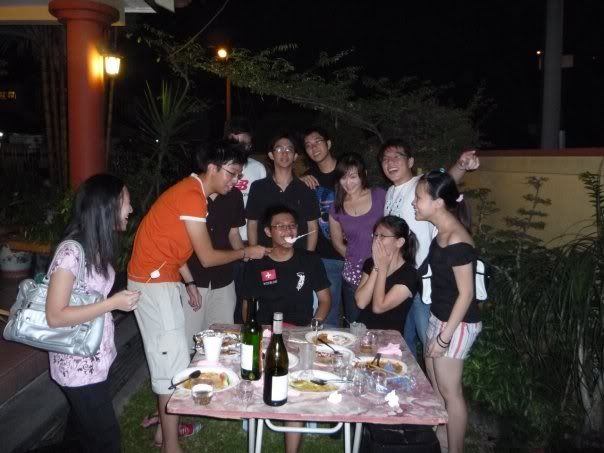 Apparently they couldn't get enough of the marshmallows.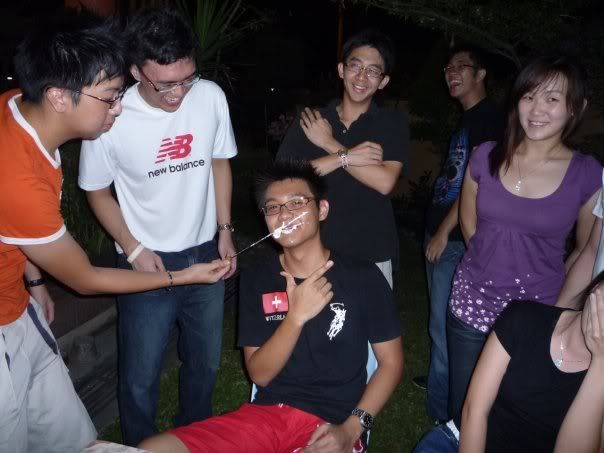 Birthday face? xD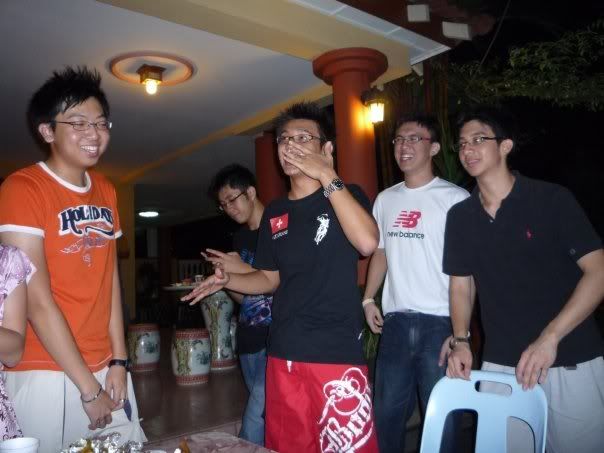 Candid shot.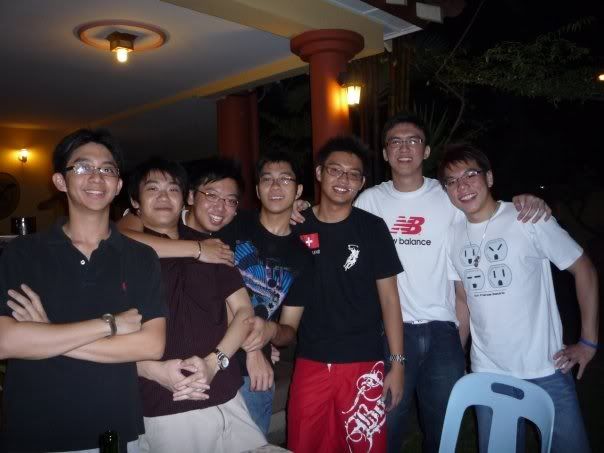 From L-R: Dennis, Jack, Jian Sheng, yours truly, Peng Cheng, Yu Han, and Kenneth. Rawr! DJ-ians for life.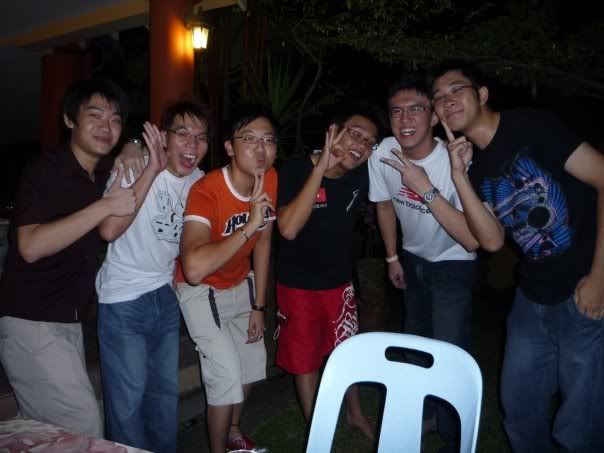 This was when the red wine really started kicking in. Lala post galore. No idea why I'm even posting this up. No more macho image or perception already.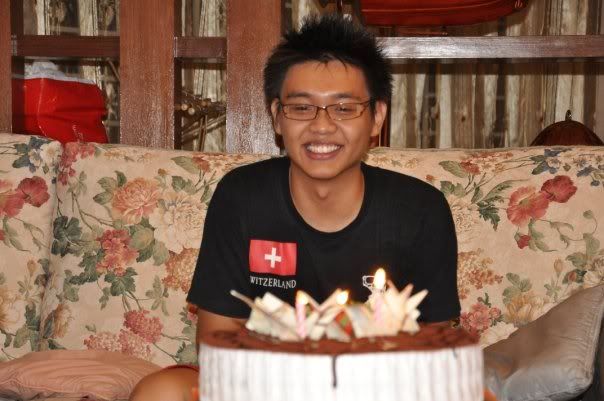 The birthday boy.
I didn't stay in time for the cake cutting ceremony though.
Rushed off early.
Here's the
link
for more photos; some of which I refuse to post up due to me looking like a ding dong.
Happy 21st PC!
Thanks for the great party. = )
Picture credits go to those involved.
Can't remember who took which.
2. Random meet up @ 4th August 2009
Went off to SS2 to pick up Julian and Lerida for a meet up.
Surprising Lerry was probably the funniest part of the whole thing.
Picked them up and we headed to Murni's for dinner/supper.
Meh, glorious food.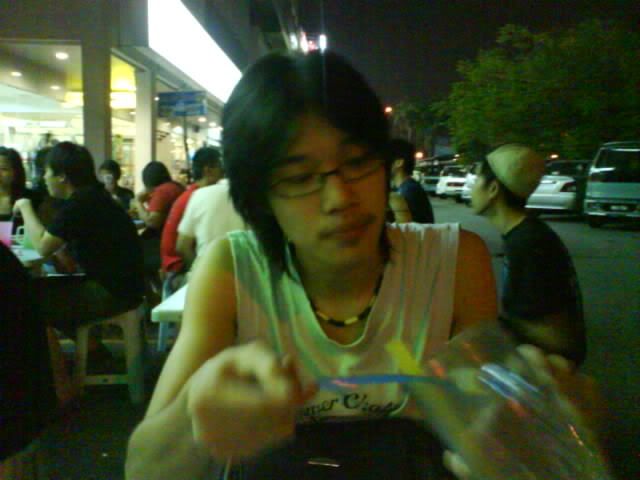 Julian, the initiator of the meet up.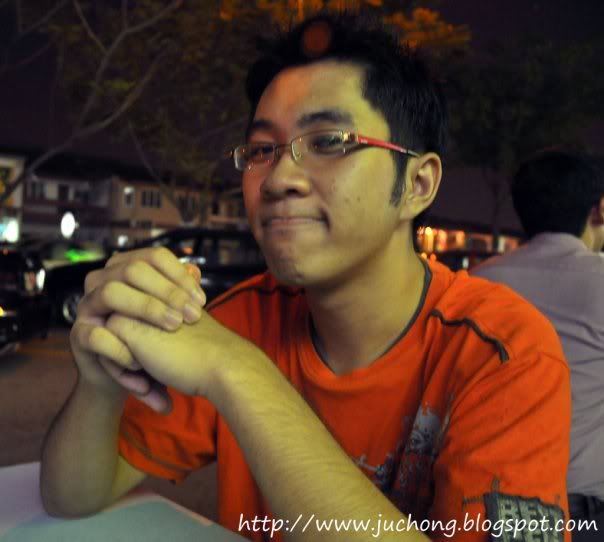 Picture credits to Jules.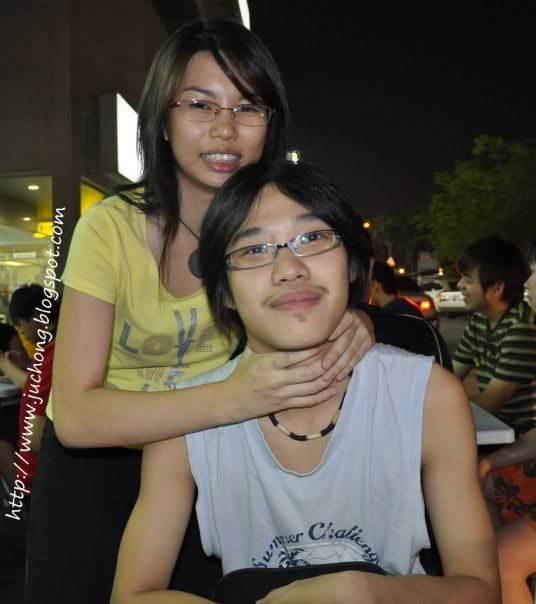 A very happily choked Jules. Meh...
Matt and Lerrrryyyyyy. Picture credit to Jules.
He had his DSLR.
Rawr!
Hence, there were random pictures being snapped.
Some too candid to reveal.
But, here's the
link
on facebook for further info.
3. Random sleepover at Brandon's from 7th-8th August 2009
It was a long awaited sleepover I promised but could not fulfill till now.
Stayed up and had a good chat throughout.
I'll let the random pictures do the talking...
Pfft, bad angle for me.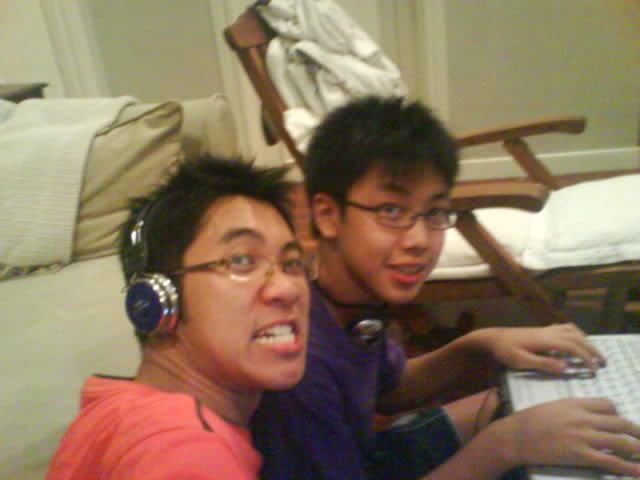 Meh...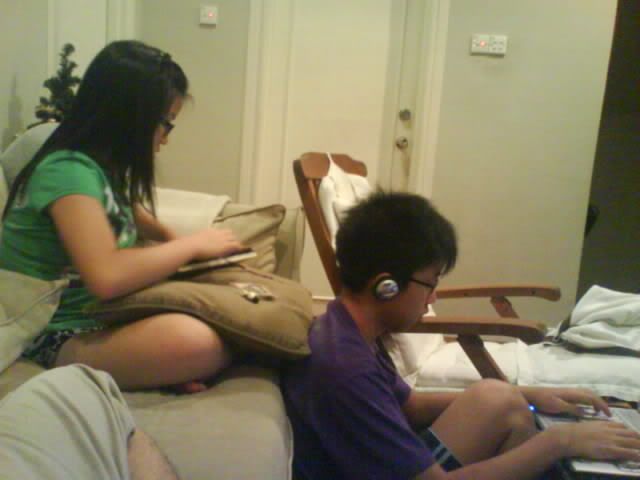 The Chai Siblings.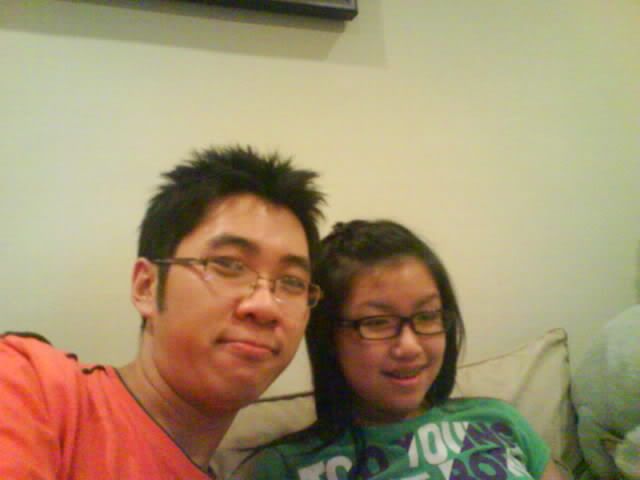 Smile for the camera.
That crooked smile I loathed. Ugh...
4. Victor's Birthday and Movie Outing
@ 9th August 2009
After church, the youth decided to head to Secret Recipe, 1U to celebrate Victor's birthday.
So we headed off after lunch, stayed to chill out with him.
Then I headed off to pick her up.
We caught the Proposal (second time for me) since she hasn't watched it.
So, I'll let the pictures do the talking.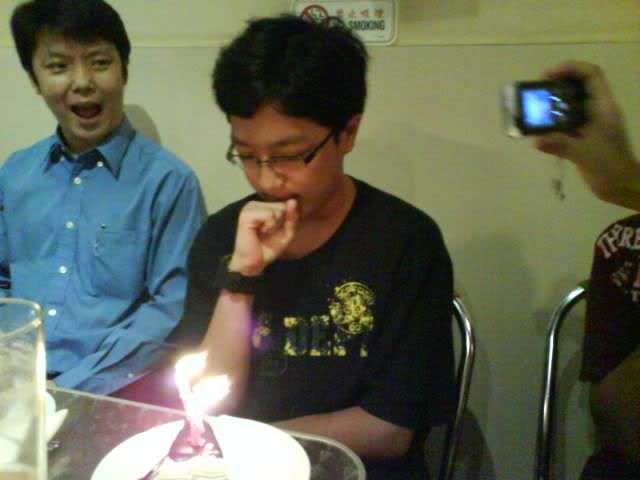 Victor about to blow out the candles.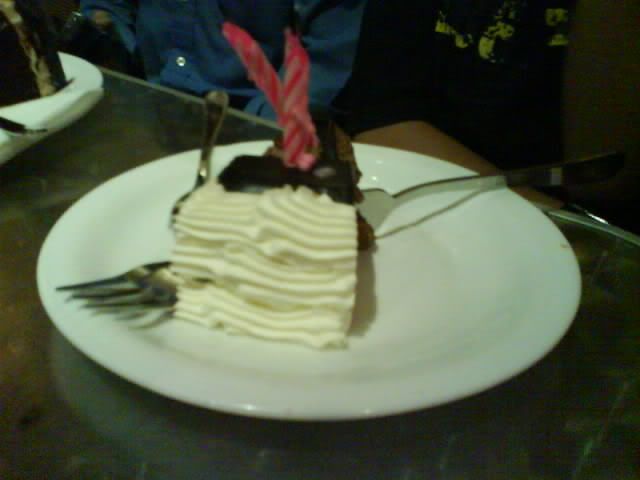 Chocolate Indulgence.
Lil ding dongs fooling around.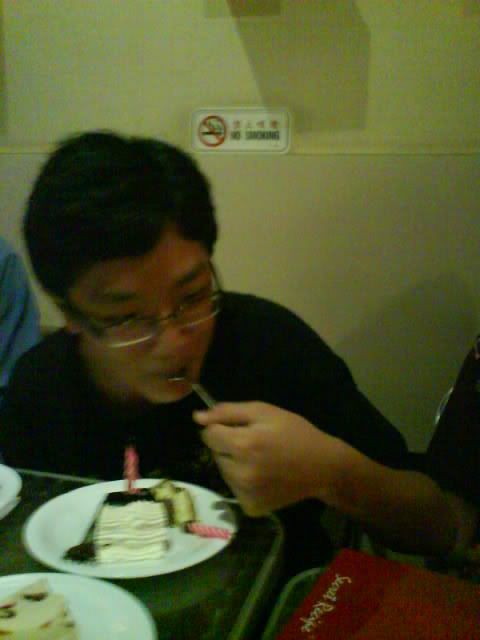 Happy Birthday Vic!
Didn't get to snap pictures of the rest.
They were camera shy and refused to be included in the pictures.
Meh...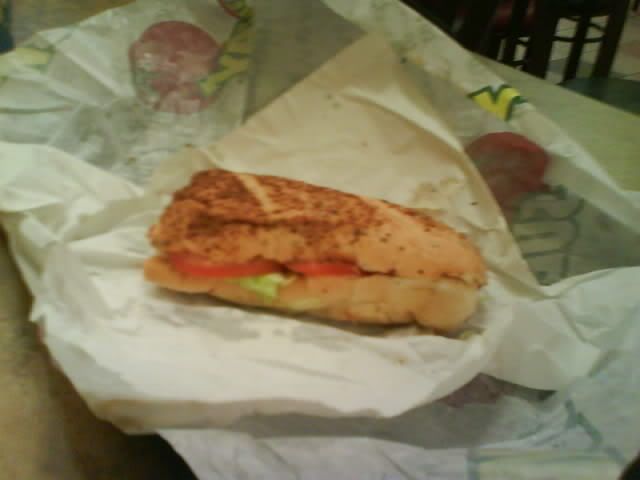 Dinner @ Subway's.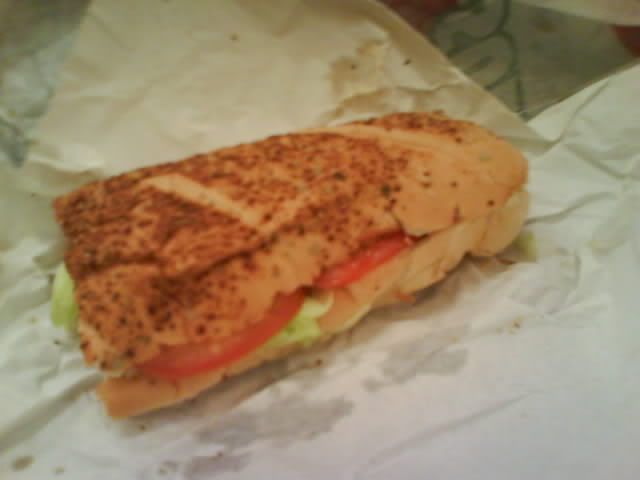 Thanks for the treat you! = )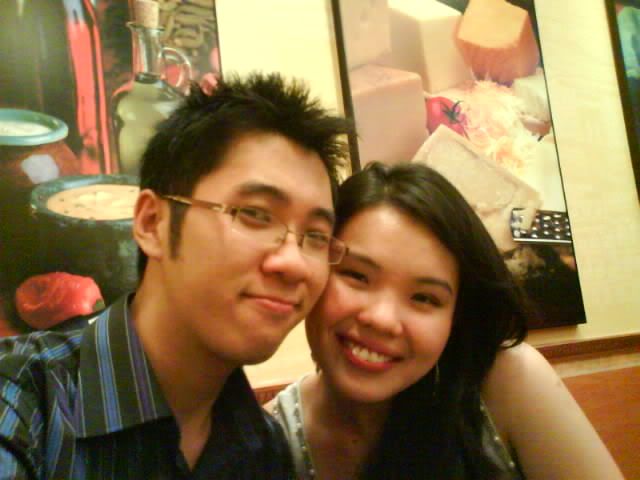 Heylo!
Guess who again? *grins*
So that's about it for my very long updates.
Looking forward to another eventful week ahead.
EPL is beginning this weekend.
Hopeful of catching up with some action.
Things need to be settled and sorted out by this week as well.
Thank You Lord for Your faithfulness.
Continue to guide and lead my every step. = )


More than a nice melody
More than the sweetest of words
This is the love I have found
And in this love I am found
I just want You, Jesus
I just want You, my Lord
I just want You, Jesus
I just want You...

Never could I comprehend
The love You so freely give
Never could I be worthy
But Your love covers all of my sins

There is no greater love than Yours
Nothing else could ever compare
And even if I searched all the world
I would never find a love like Yours