Movie updates!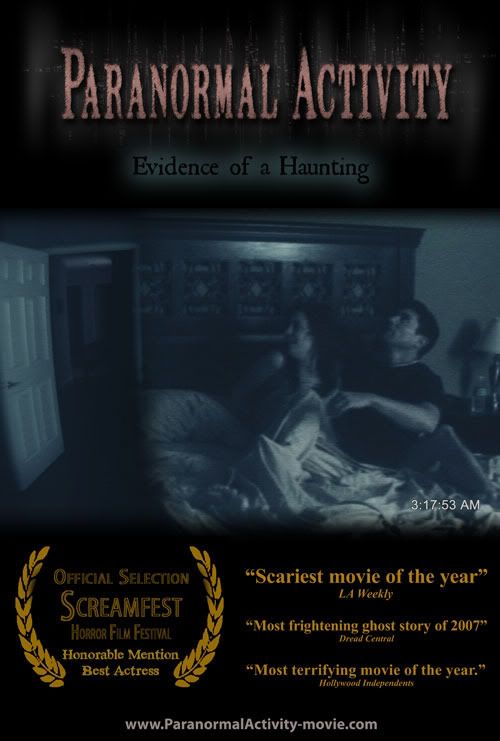 Paranormal Activity.
Caught this with Eu Jin and the brother on the laptop. It was recommended as apparently it's "the first movie to make me scream" quotes Eu Jin. So I thought I'd give it a try though I'm no big fan of horror movies.
It was scary in its own rights, but I think watching it at midnight with the lights turn off, and a really good sound system would scare the wits out of you. Picture watching it in the big screens.
The movie synopsis is in the form of a first person kinda view, with the whole thing from Micah's (Micah Sloat) point of view using a camcorder to attempt to catch the paranormal activity going on in the house he resides in with his girlfriend, Katie (Katie Featherston). However, Katie has always had 'someone' following her everywhere she went ever since she was a kid.
I think the nail-biting parts were when the nights came, and you'd see (i.e. blankets moving, bedroom door moving, the "entity's" shadow even) and hear things such as footsteps. Definitely thought the whole concept was interesting though.
Verdict: 6/10 If you're thinking of giving yourself a scare, this is it. But I suggest that the volume be maxed, lights be turned off, and caught right at the stroke of midnight. : )
Identity.
Yes, I'm outdated. This movie was dated 2003, but I thought watching another thriller right after a horror would be cool. Though towards the end, I didn't really get the plot...but I thought the twists in it and the entire structure of the movie was good.
Click
here
for synopsis.
Verdict: 7/10 Interesting how the plot fell into place and you'd try and figure out who was the real killer in the end.
ACCA workload is really starting to pile up and I'm glad in a way.
I think I'm really enjoying each and every subject no matter how tedious they seem.
But heck, I'm learning a whole lot...and I believe I'm moving in His calling to serve Him in the corporate world.
Yet again, anything can happen when God calls and that is what's so exciting on this journey with Him.
The only annoying thing is the fact that I have classes this Sunday.
And perhaps the hardest thing is coming in to 3 different classes, seeing 3 different sets of people, and yet each of them having their own 'clicks' and groups.
I'd like to believe that everyone has some good in them, so I shall stop short of calling KDU-ians arrogant.
Only time will tell.
I guess it's time to actually head off and do some revision.
Everyday starts off pretty much the same, but the only difference between getting through the day and letting it affect me is when I start off the day with a proper devotion...or not.
I'm gonna get through this even if I have to crawl on all fours. : )
I trudged up the hill of pain and disdain,
Every little step seemingly the hardest,
The summit seems so far away, it was plain,
But I needed to get there to emerge the strongest.