But I don't care what they say,
I'm in love with you,
They try to pull me away,
But they don't know the truth,
My heart's crippled by the vein that I keep on closing.
You cut me open and I...
Keep bleeding, keep keep bleeding love,
I keep bleeding, I keep keep bleeding love,
Keep bleeding, keep keep bleeding love,
You cut me open.
Meh, I'm being random.
So happen this song is running on the playlist.
Hence, the randomness.
On another note...
...the blog has reached 10,000 visitors!
After a very long time
.
Pfft, whatever.
I'm awesome like that. = )
I have updates, but sadly Streamyx regressed just as I thought it had gone back to almost normal speed.
So, this is gonna be a short update before the very long update which will come tomorrow if Streamyx is being nice.
This week has been rather a lazy week, if you want to put it that way.
I've been doing nothing but be a couch potato.
It's movie after movie, and more Prison Break.
Looking forward to Thursday; and Harvest Crew is sending over a group for missions trip to Malacca's Kampung Jus for a 2 day missions.
It should be comparatively easy in terms of itinerary compared to previous trips.
Nevertheless, still looking forward to it. = )
Speaking of which, I did some dabbling on my facebook yesterday.
And this is what happened...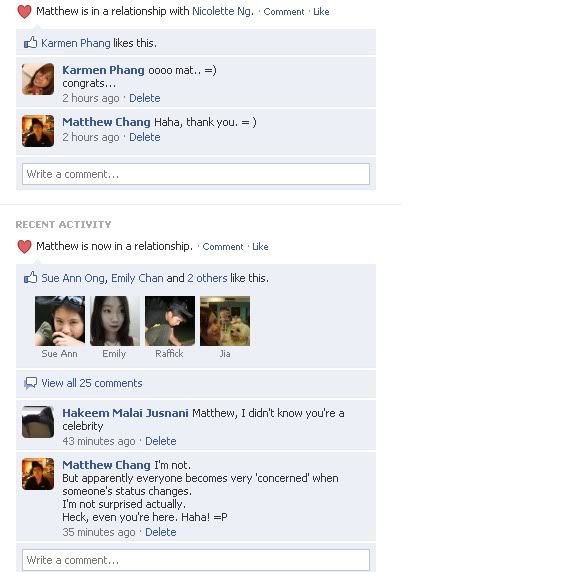 The picture's probably too small, but if you look carefully...
I became a celebrity overnight.
It's funny though, how everyone is so very busy with their own lives and then news like this appears and everyone suddenly becomes so...concerned?
I find it rather hilarious actually. = D
The last time I tried a hoax with a friend, we generated quite a lot of attention.
Hakeem's comment was probably the funniest, what about him not knowing I was a celebrity.
Ironic isn't it? = )
This thought me something...
That people are naturally
kei poh
? (Not really, but that too. xD)
I have this habit of messaging people whenever I see emo shoutouts on Facebook.
Perhaps it's an in-built God-given characteristic, cause I cannot just ignore people who are down and are going through a tough time.
This was perhaps some sort of a wake up call for me.
I need to be there more, stop being a lousy friend, and hopefully not be so negligent when it comes to friends around me.
My weakness...=X
Okay, I'm ranting already.
Await my updates.
Will be here soon. = )
~
What is more, I consider everything a loss compared to the surpassing greatness of knowing Christ Jesus my Lord, for whose sake I have lost all things. I consider them rubbish, that I may gain Christ
. [Philippians 3:8]