I've finally gathered the courage to listen to the song that I totally love but that brought so much pain and tears everytime I heard it. Its all in the past now... = )
Happy Chinese 'Niu' Year as everyone has been wishing me. So I decided to spread my best wishes to all my readers who celebrate the new year.Lets hope this year will be even more prosperous and fruitful. = )
So, what updates do I have? As promised, here are some updates.
Went out with an old high school mate recently, and it was good meeting up over lunch and just to catch up. Thinking that perhaps it was the week before Chinese New Year, there wouldn't be much traffic at Midvalley. How wrong that would prove to be. We spent 30-45 minutes finding for parking, in the Gardens parking (which normally has quite ample parking space).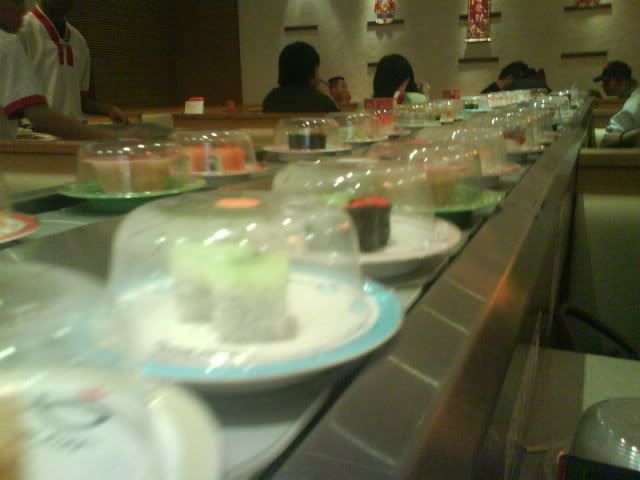 Decided to eat at Sushi King as someone was craving for sushi for lunch.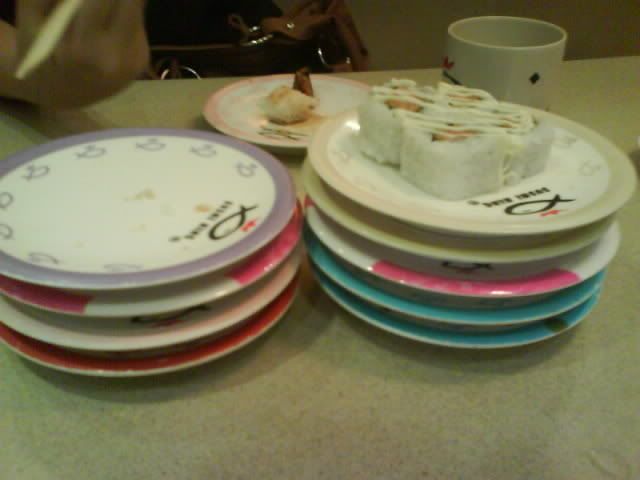 Almost done.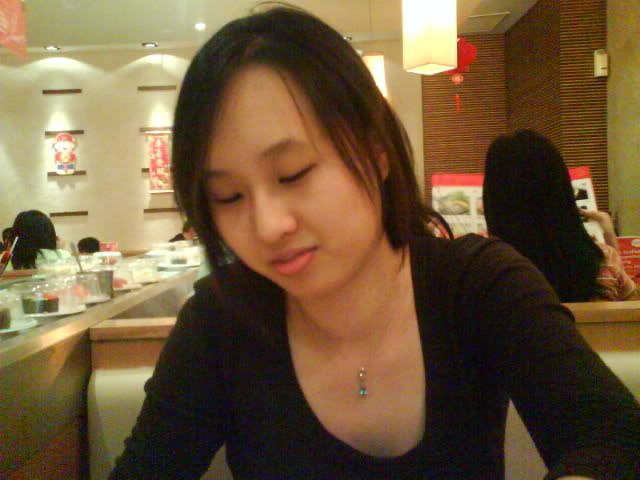 My "date" for the day.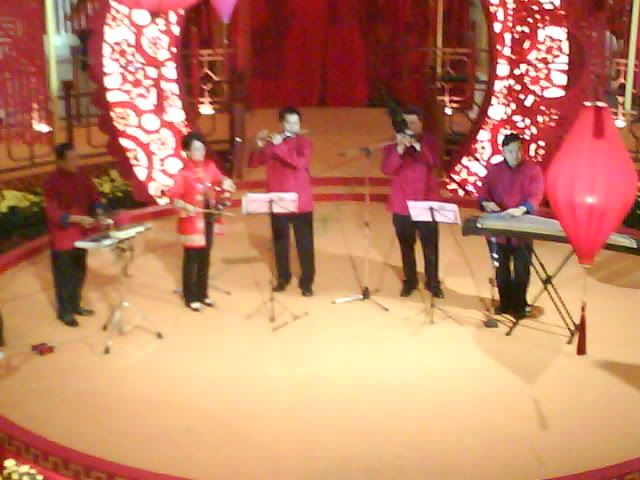 Chinese New Year performance.
Had a good time catching up, before we went to catch Bedtime Stories (movie review at the end of this post). After the movie, we walked around in the job fair that was going on at the Midvalley Exhibition Centre before we headed back to Gardens as she wanted to do some shopping.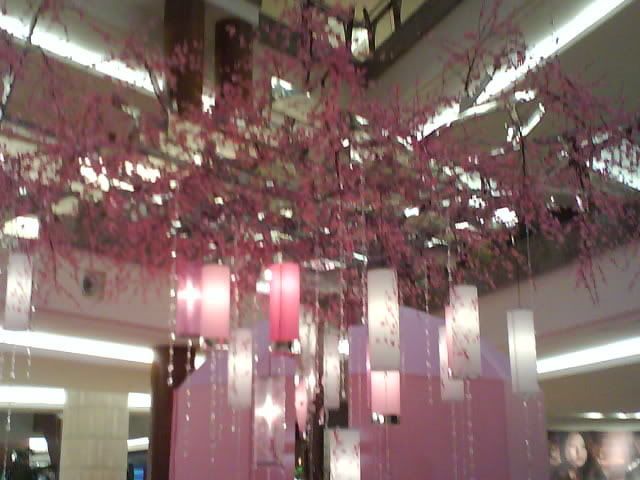 Cherry Blossoms at the Gardens.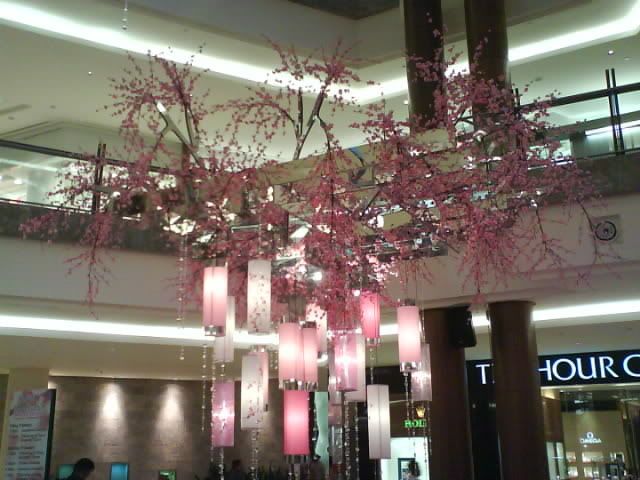 More of 'em.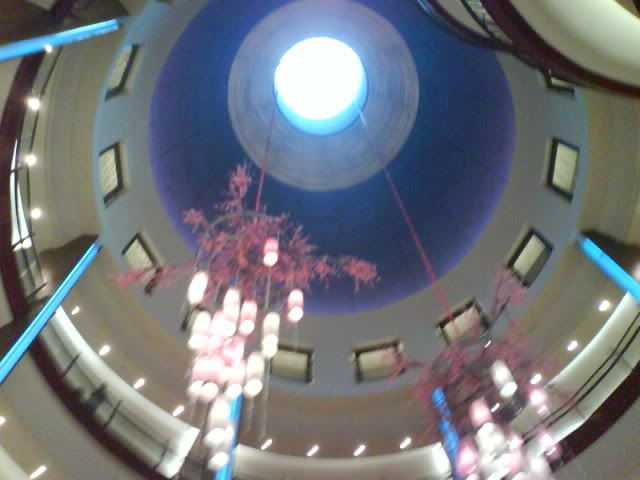 Random...
Next up, a last dinner before Eu Jin heads back to JB for Chinese New Year's. We had dinner at Island Cafe, SS2.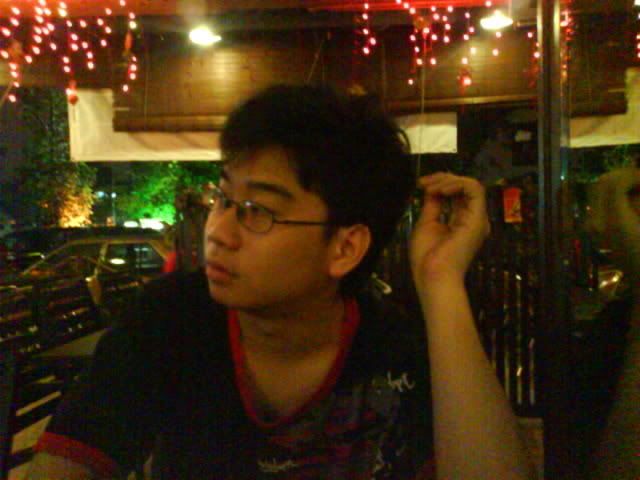 The guest of honour. = )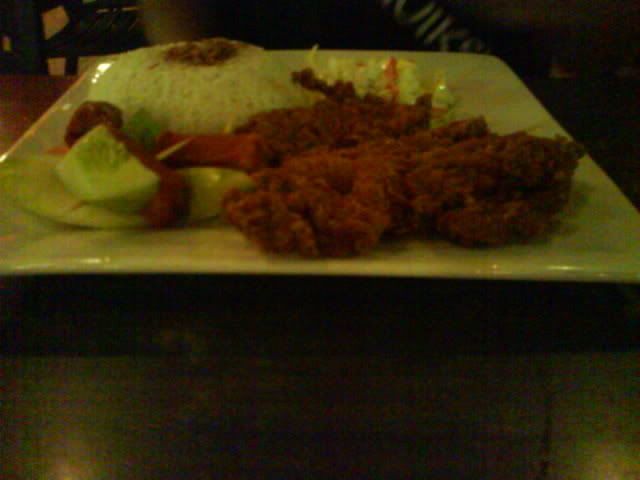 What he had: Chicken Chop Rice.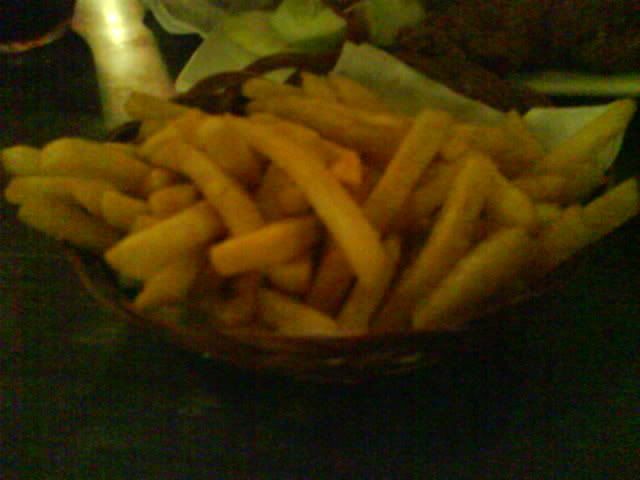 What yours truly had: French fries...and also fried calamari (picture unavailable).
Now...to get a bit more updated.
Had reunion dinner (like every other Chinese family celebrating Chinese New Year) at my dearest grandmother's joint on the eve of Chinese New Year. It was good catching up with all my uncles and aunts. Even Uncle Jonathan came back from Singapore this time round.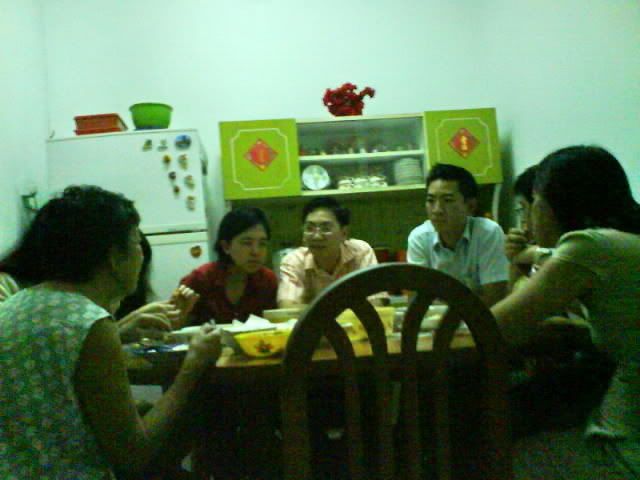 Family Reunion Dinner!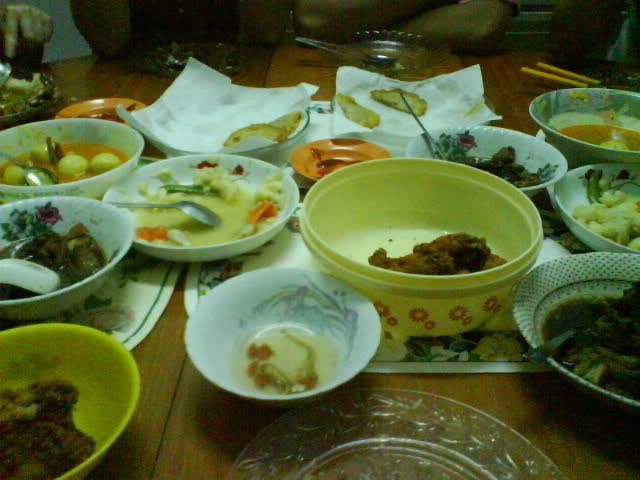 Post-dinner...but look at the number of dishes there were.
Went back to grandmother's place again this morning as it was the first day of Chinese New Year. After having lunch, went over to Uncle Michael's (mum's cousin) place in Subang and unfortunately, I only have two pictures from today...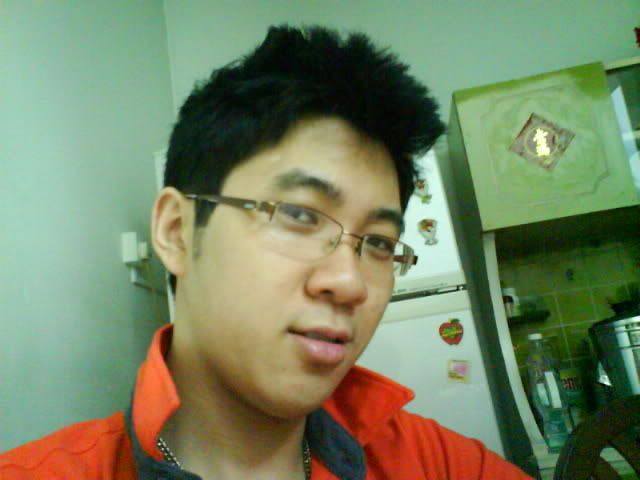 Self-portrait at Granny's = )
I was having so much fun with the Nintendo Wii that I forgot to snap pictures with my cousins. I regret so badly now.
Anyway, thats about it for my first day of New Year's.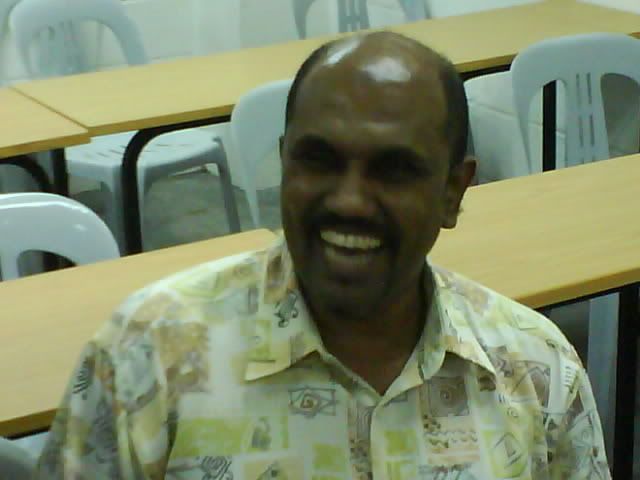 Meet Mr Siva, my taxation lecturer. Probably one of my favourite lecturers of all time.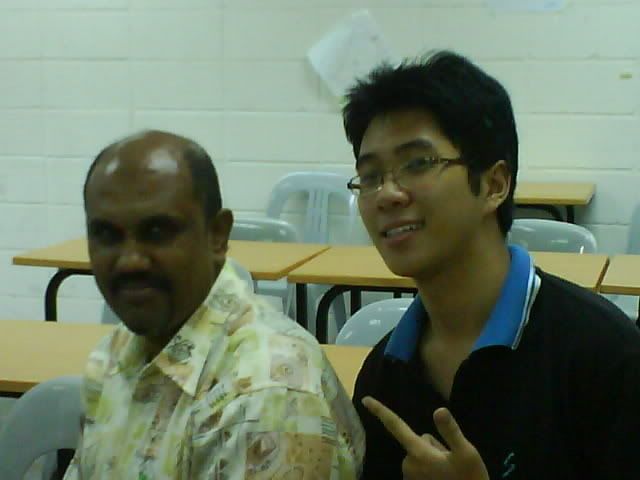 Miss your lessons and the neverending jokes. = )
Finally, movie reviews that I've caught lately.
Ip Man (pronounced in Cantonese for your info, not literal English).
Caught this with the family as my parents wanted to see it (for their second time). I NEVER go to the cinemas and spend money to watch any movie other than English movies. But this movie was pretty good in the end. It exceeded my expectations (maybe cause its already so low xD) and was indeed worth the time taken to watch it.
Verdict: 8/10 Yes, its that good!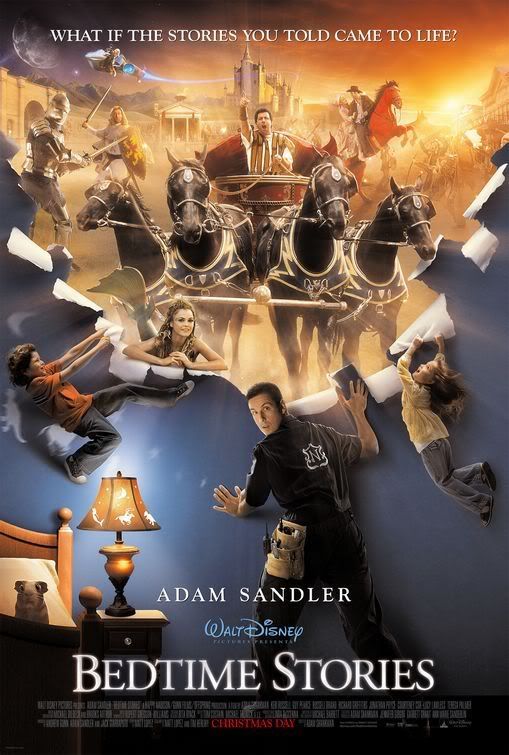 Bedtime Stories.
Caught this with Lynn Yee. Overrated I might say. Only a few witty lines, but Adam Sandler salvages some pride for this movie which would have otherwise been just another Disney movie.
Verdict: 6/10 Bring your kids. They'll love it.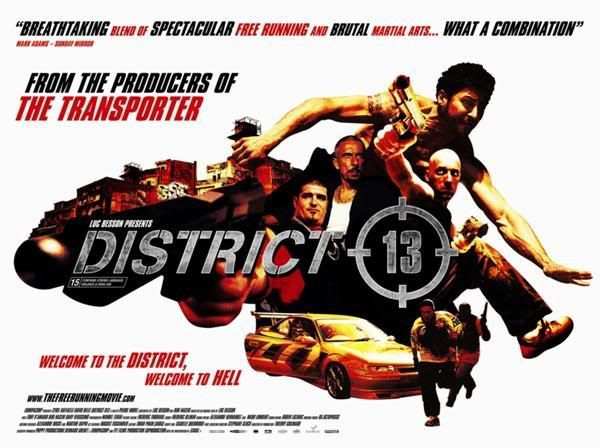 District 13.
The whole movie was in French (with subtitles of course) but it was still good. Got this movie thanks to Brandon and the choreography of the action was pretty cool. Some of the moves were pretty interesting to watch, and the plot was done pretty well.
Verdict: 7.5/10 I'm a sucker for action movies. Sue me...xD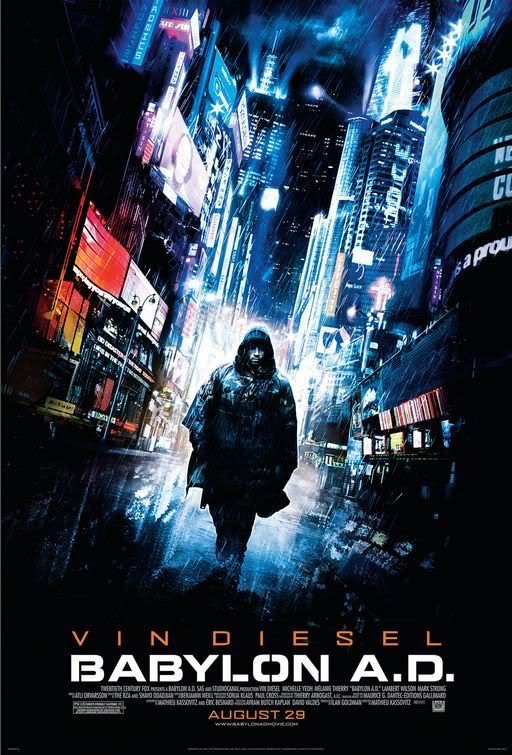 Babylon A.D.
Thought this movie was pretty good, but I've seen better. As I totally love action movies, the ratings given are kinda based on comparisons to past movies that I've watched. Wasn't much to shout about, but it was not bad.
Verdict: 7/10 Get the DVD.
Ong-Bak.
This is definitely an 18SG movie, but it was worth it (simply because I got it again, thank to Brandon) and it doesn't get any better than this. Ong-Bak 2 is coming out soon by the way. So if you're a fan of this, go catch it in the cinemas.
Verdict: 7.5/10 A bit violent though.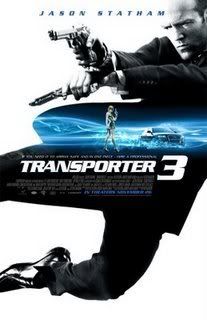 Transporter 3.
I did not catch the previous prequels to this movie, but I still understood the basic plot behind the whole movie. This was pretty okay as well, but if you've caught Transformers, Die Hard 4.0, and the Dark Knight, this movie pales in comparison in terms of ratings. Still a good movie though.
Verdict: 7.5/10 Once again, Jason Statham plays his bad boy role to perfection.
Thats all the updates from me. A long post yes? Well, thats to make up for all those days that I've been missing from the blogosphere. Enjoy, and Happy Chinese New Year once again. Best wishes to everyone out there.
PS: Will my efforts count for nothing?