Its been a pretty busy weekend in 1 sense. Basically had lunch with Sue Ann at KFC's again on Friday before college. Yes, I'm dealing with the guilt of having KFC twice a week.
Worship practice was at usual at 4pm yesterday, but the whole thing started and ended late and I ended up rushing to pick my parents before heading off to Midvalley to catch a movie with Uncle Derrick's family as well. Will do the movie review at the end of this post.
Anyway, today HCC celebrate our 6th Anniversary! Congratulations! =D Worship was pretty good today as well. I'm back home a lil early today due to non-existant activities after church today.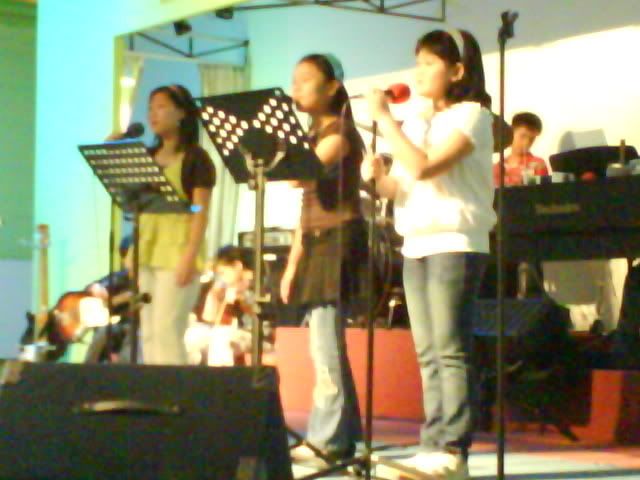 The kids and their presentation. No picture of the youth presenting though. =S
Don't have much to update, except that I'm drowning in my stack of assignments. Finished Information System and should be handing it in this Tuesday. Presentations are coming up the following week, with the Research Skills assignment due 2 weeks from now. So its 1 week after another.
Enough ranting. Lets get to the movie review shall we?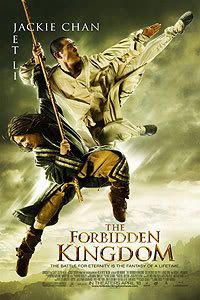 The Forbidden Kingdom.
After getting some really average and below average review of the movie, I wasn't really looking forward to catching the movie. I went in with little expectation, and came out feeling it was worth the money. It wasn't as bad as I expected it to be, and to be honest, the action was pretty well choreographed as well. The effects were not too bad itself.
I guess since it combined Jackie Chan and Jet Li was the reason the expectations were raised. Well, I would say it was not bad, but maybe because my ticket was paid for. Haha. There were some really memorable scenes, not to mention some hilarious scenes. Liu Yi Fei who played the Golden Sparrow in the movie was certainly eye candy. I guess it was worth watching in that sense.
Verdict: 7.5/10
A line from the movie that truly caught my attention. It went something like this...
"If you live cut off from men and desire, you would never be broken. But then, would you truly have lived?"
The verse about being in the world, and not of the world just suddenly came to mind. = ) Anyway, thats a wrap from me in this post. Assignments...= /
Signing off,
Matt